Chopard
Watch Guide
Louis-Ulysse Chopard was born in May 4th 1836, between St-Imier and La Chaux de Fonds, Switzerland. At the age of 24, the talented craftsman opened his watch making workshop and shop front under the name L.U.C, initials taken from his name.

Coining the motto "Quality with the maximum possible work by hand", Louis-Ulysse Chopard and Chopard watches became a reputable name amongst his eighty competitors, his precision and quality landing buyers and enthusiasts as far as Russia, Scandinavia and much of Eastern Europe. By 1912, having travelled to Hungary, the Baltic countries and Russia via Poland, his time pieces had reached the court of Tzar Nicholas II.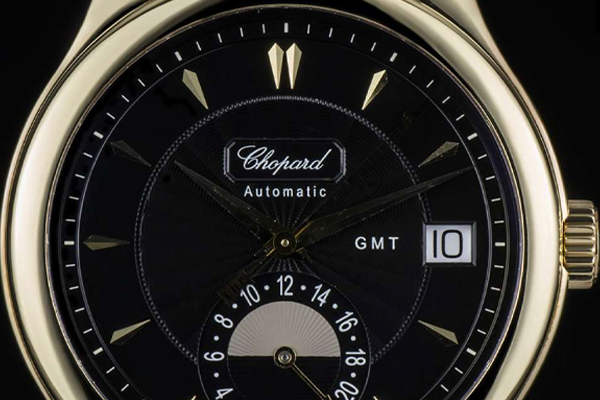 L.U.C
Happy Diamonds
Two O Ten Sport
Chopard history
Paul Louis Chopard, son of Louis-Ulysse Chopard, opened a branch and then relocated the company headquarters to La Chaux-de-Fonds in 1921.
In 1937, the company was moved to the capital of Fine Watchmaking; Geneva. Paul Andre Chopard, grandson of Louis-Ulysse, took charge of the now 150 employee strong firm in 1937.
In 1963, having reached 80 years of age, Paul Andre sought to sell the family business as none of his sons wished to inherit the company. He met Karl Scheufele III, who wished to carry on the Chopard name. Scheufele was himself from a dynasty of watchmakers and jewellers from Pforzheim, Germany, who operated under the brand name Eszeha. Chopard was sold to Scheufele after a short meeting. From this moment the company continued to flourish to new heights.
In 1988, Chopard became one of the prominent sponsors of the famous motor race, the Mille Miglia, which had re-launched in 1977.
By 1995, Chopard made its own ebauches in Fleurier, featuring a micro-rotor and double spring drum in its' automatic 1.96 and 3.96 calibers.
In July 1996, Karl Scheufele joined forces with Jose Carreras' and his Foundation for leukaemia. A limited edition was created and ran successively for years, the profits going to the charity.
Chopard became an official partner of the Cannes Film Festival in 1998, creating the Palme d'Or; the Golden Palm award.
The L.U.C. Sport 2000, equipped with the L.U.C. 4.96 movement, was presented in 1999.
A year later saw the introduction of the L.U.C Quattro and the debut of the L.U.C 1.98, a manual wind movement with an estimated ten day power reserve. The year 2000 also marked the 13th consecutive year that Chopard had sponsored Mille Miglia. This was commemorated by launching a unique line of time pieces.
In 2001 Chopard launched L.U.C. Tonneau, which featured the L.U.C. 6.96, an automatic rewind calibre.
By 2002, Chopard has employed over 700 people between its production units in Fleurier, Pforzheim and Geneva. Chopard also released a special edition in support of the Historic Monaco Automobile Grand Prix.
Chopard is an independent company that continues to pursue a time-honoured family tradition. Karl Scheufele and his wife Karin are still active in the company to this day, having spent over 40 years in expanding the Chopard brand globally.

Chopard's current co-presidents are Karl and Karin's two children: Caroline Scheufele is in charge of the high jewellery and the ladies' collections, whereas Karl-Freidrich Scheufele, her brother, oversees the gents' collections and the Chopard Manufacture in Fleurier, the production site of L.U.C movements.
‍
Chopard has become a leading name in the luxury watch and jewellery industry, renowned for its craftsmanship, state of the art technology and ingenuity.