Top 10
Most Popular

Patek Philippe Watches
Patek Philippe watches are renowned for being among the most beautiful luxury watches in the world. Established in 1839 in Geneva, Switzerland, the brand quickly earned a reputation for creating watches that were both innovative and aesthetically perfect.

One of the last family-owned Genevan luxury watch brands, Patek Philippe has created some of the most complex watches in the world, registering more than 70 patents for its groundbreaking new designs and features.

Many celebrities have been pictured wearing a Patek Philippe watch, including musician Paul McCartney, Spiderman star Tom Holland, US investor and billionaire George Soros, legendary actor Sylvester Stallone, Premier League footballer-turned-manager Frank Lampard and celebrity chat show host Ellen Degeneres, to name but a few.

It's no surprise the brand continues to grow in reputation and popularity. The luxury watch manufacturer has created individual models that stand out as being exceptional in terms of functionality and appearance. Read on to find out about the top 10 most popular Patek Philippe watches.


1.

Patek Philippe Nautilus Travel Time 5990/1A-001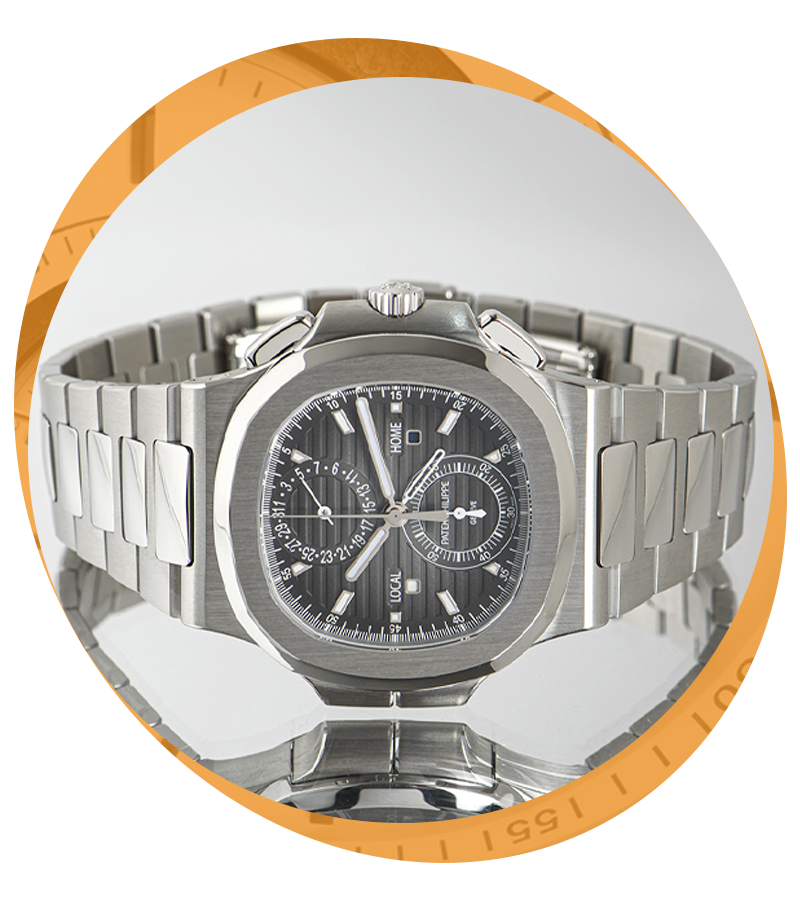 The Nautilus Travel Time 5990/1A-001 had to be included in the list of the best Patek Philippe watches, as it was one of the first to bring chronograph functions to the wristwatch. It can also display two time-zones simultaneously.

The 5990/1A-001 made its debut in 2014 and has been in great demand ever since. Patek Philippe stayed true to the original design of the Nautilus, implementing only a few understated changes, including a slight rounding of the hinges framing the dial, a three-part case and a marginally increased profile.

The model features the familiar Nautilus pattern and other traditional design elements, such as the counterweight used by both lancet-shaped chronograph hands, which are part of the same complication.

2.

Patek Philippe Nautilus Self-Winding Rose Gold 5712R-001

A luxurious addition to the Patek Philippe collection, the Nautilus Self-Winding Rose Gold 5712R-001 features a beautiful rose gold finish, making it an ideal adornment to formal attire. The self-winding mechanism makes good use of the brand's 240 PS IRM C LU calibre movement, complete with power reserve indicator.

Released in 2006, the Nautilus 5712R-001 is as visually stunning as it is technically impressive. The black-brown dial has gold hour markers with a luminescent coating so it is readable even in low-light settings.

The rose gold case features a screw-down crown and sapphire crystal case-back. It is water-resistant to a depth of 60 metres.

The diameter of this incredibly dressy model is fairly large at 40 mm, with a height of 8.52 mm. Despite its size, the model's streamlined design makes it appear more compact on the wrist. The rich brown alligator-style strap has a fold-over clasp, contrasting well with the rose gold case.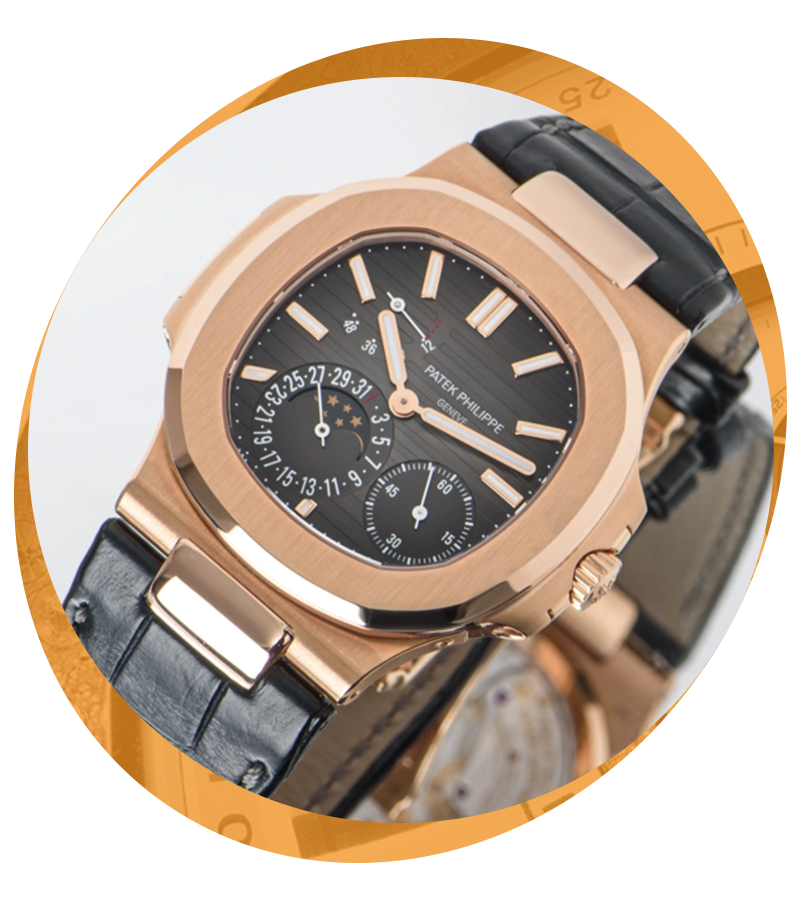 3.

Patek Philippe Aquanaut Travel Time 5164A-001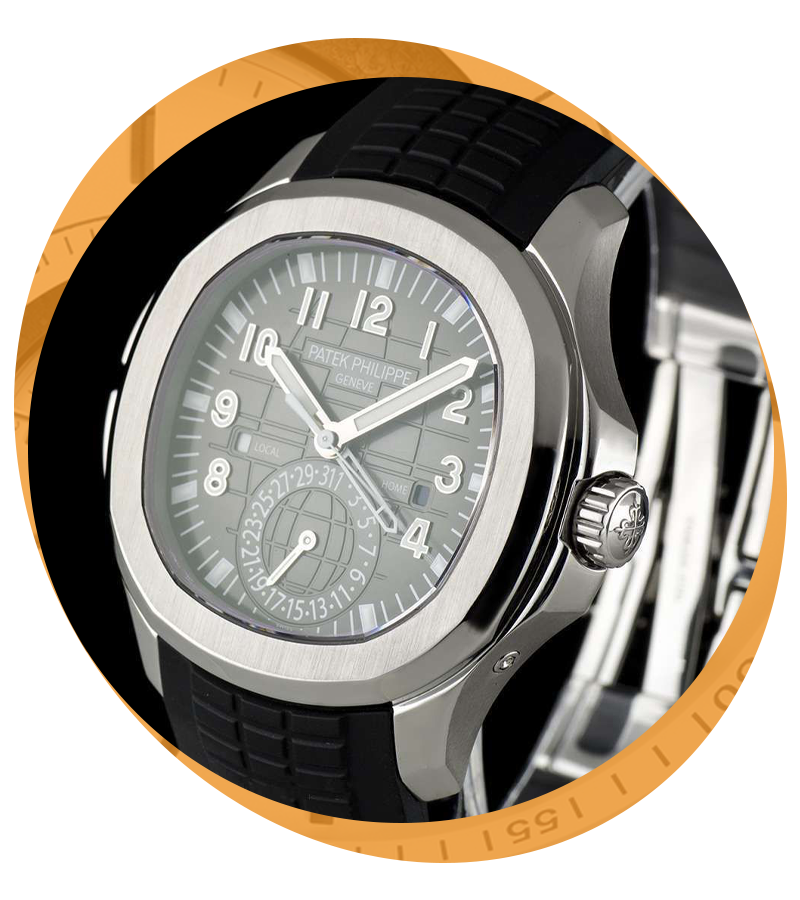 This luxury watch is an ideal travelling companion and is perfectly suited for adventurers. Launched in 2011, the Aquanaut Travel Time 5164A-001 appears to be an updated Nautilus 5990, but doesn't have the 60-minute chronograph complication.

With a steel case measuring 40.8 mm, the 5164A-001 features Patek Philippe's trademark rounded octagonal design. Its highly polished, satin-brushed finish exudes class, while the embossed black dial is understated, yet striking. The model has dual time zones displaying local and home times, using white and blue apertures respectively.

Boasting water resistance to a depth of 120 metres, the Aquanaut Travel Time 5164A-001 is the sort of watch that will suit your lifestyle, whether you're relaxing on the beach, skiing the slopes, or delivering a presentation.

4.

Patek Philippe Aquanaut 5168G-010

The Patek Philippe Aquanaut 5168G-010 is a larger version of the traditional Aquanaut, with a diameter of 42.2 mm. The warm green dial has been called khaki and olive. Regardless of how you classify it, this model has an attractive, sumptuous design that is both fashionable and technical at the same time.

The matching green rubber strap with folding clasp ensures this luxury watch is a real attention grabber. Its luminous hour markers and hands, white gold case, 324 S C calibre movement and water-resistance to 120 metres create a sporty yet classy timepiece. Released at Baselworld 2019, its unusual colour helps make it a great investment watch.


5. Patek Philippe Aquanaut 5167R-001
Launched in 1997, the Aquanaut 5167R-001 is a highly sought-after luxury watch, boasting an 18 carat rose gold case, octagonal bezel, warm chocolate-brown dial and ornate Arabic numerals. It's not just impressive visually: its 45-hour power reserve and 324 S C calibre movement make it a statement of technical accomplishment too.

It's built to last and also looks great, featuring a screw-down crown and sapphire-crystal case-back. Water-resistant to a depth of 120 metres, the Aquanaut 5167R-001 has a case diameter of 40.8 mm. Its "tropical" strap is made of an innovative new composite material that is ultra-resistant to salt water, general wear and UV radiation.


6. Patek Philippe Calatrava Pilot Travel Time 5524R-001
Launched in 2015, the Calatrava Pilot Travel Time 5524R-001 has long been known as a radical watch way ahead of its time. With its rose gold finish and warm brown dial, the pilot's watch feels like something of a novelty for Patek Philippe.

Water resistant to a depth of 60 metres, the watch is powered by a mechanical self-winding movement. Sporting a matt brown calfskin strap, the 5524R-001 features an innovative Gyromax free-sprung balance wheel and Spiromax balance spring. This means it offers precision timing, making this model the perfect combination of elegance and accuracy.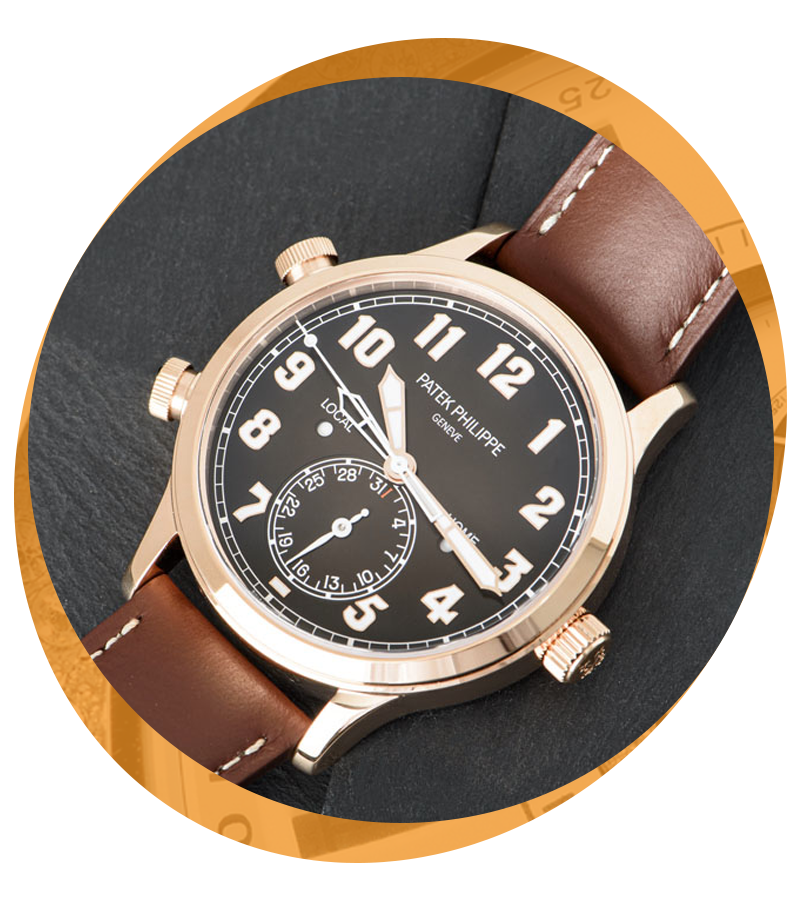 7. Patek Philippe Annual Calendar Chronograph 5905P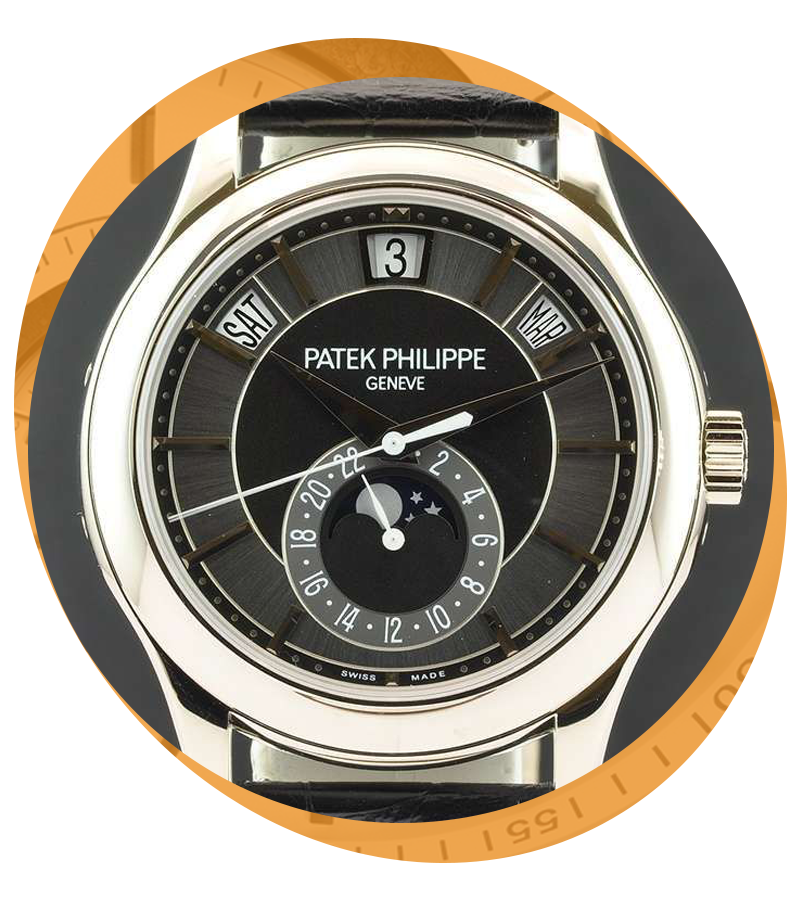 The Patek Philippe Chronograph 5905P, released in 2015, is available in a choice of three dial colours: black, blue or green. The dial is like a chameleon, changing colour with the lighting conditions.

This stunning luxury watch has a 60-minute chronograph, an annual calendar and a day/night indicator. It boasts a 42mm platinum case, which complements the coloured dial and applied hour markers. The 5905P has a curved bezel and chronograph pushers with a rectangular shape to complete the stylish design.

8. Patek Philippe Aquanaut Travel Time 5164R-001
The Patek Philippe Aquanaut Travel Time 5164R-001 is a rare model that is quite difficult to find. Launched in 2016, the rose gold version of the Aquanaut collection is one of the world's most sought-after luxury watches. It has a 324 S C FUS calibre movement and 45-hour power reserve.

It also boasts an innovative dual-time function, controlled by two pushers on the left-hand side of the case. You can hide the skeletonised travel-time hour hand behind the main hour hand when not in use. This functionality combines with the luxurious rose gold finish to make the 5164R-001 both practical and desirable.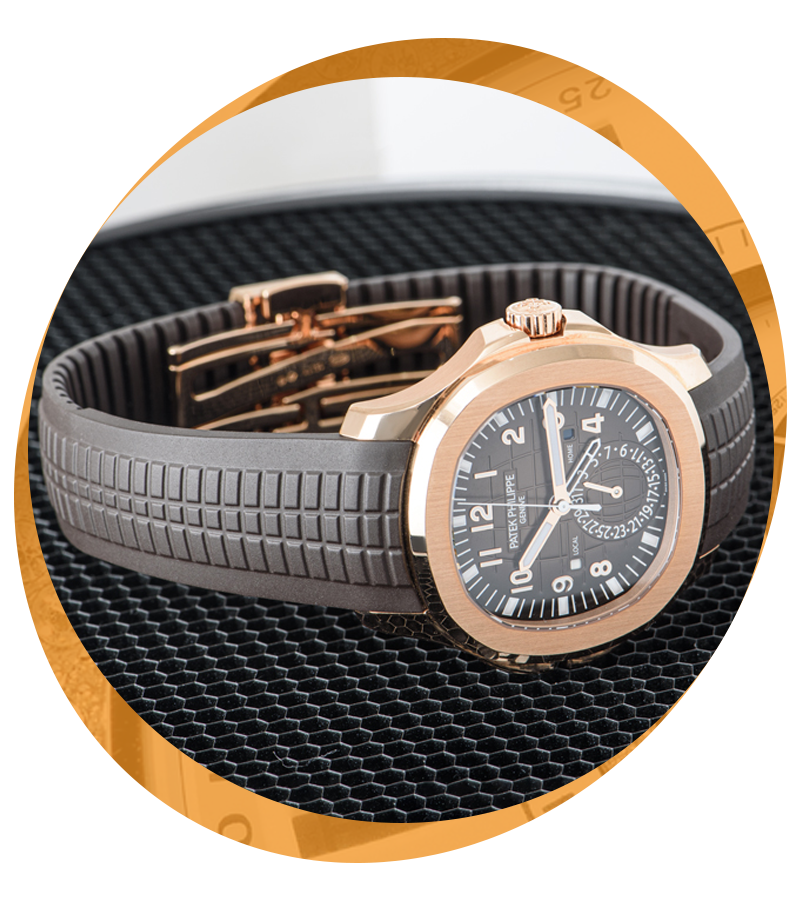 9. Patek Philippe Perpetual Calendar Chronograph 5270P-001
Collectors of Patek Philippe watches will know that salmon-pink dials are usually reserved for exclusive luxury watches. The 5270P-001 is notable as being the brand's first Perpetual Calendar Chronograph to have Arabic numerals.

Launched in 2011, this luxury watch has plenty of character. It is powered by a 33-jewel, 456-part movement, while the model has a substantial power reserve of up to 65 hours when the chronograph is disengaged.


10. Patek Philippe Nautilus 5711/1A Blue Dial
Making its debut in 2011, the Patek Philippe Nautilus 5711/1A is one of the most sought-after steel sports watches in the world. Patek Philippe confirmed the model had been discontinued in 2021, increasing its value among collectors almost overnight.

The Nautilus 5711/1A is probably Patek Philippe's most popular watch of the 21st century. Looking at current trends, it could become the most sought-after Patek Philippe timepiece in history. The model has a large 42 mm diameter case, curving outward sides and a beautiful blue dial.

There is already a long waiting list of up to ten years for the 5711/A! This in itself defines it as a luxury watch, with the discontinuation of the blue dial version ensuring its great investment value.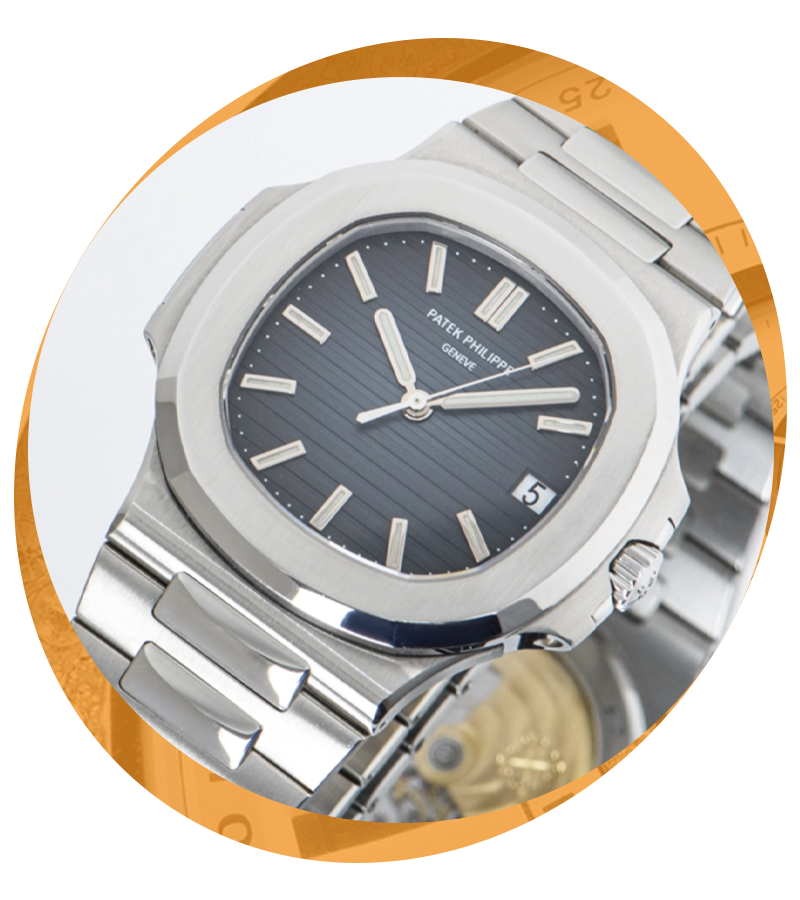 Where to buy Patek Philippe watches?
If you're wondering where to buy Patek Philippe watches, look no further than the Watch Centre. As a pre-owned watch specialist, we offer a selection of pre-owned Patek Philippe watches.

Purchasing a pre-owned model could be a great investment in your future. If you're looking to buy, or sell, a luxury Patek Philippe watch, contact the Watch Centre today.