Most Sought After
Luxury Watch Brands
Luxury watches have been a staple for those who value high-quality accessories for many years. More than just your average wristwatch, these timepieces are steeped in historical significance, created by brands who have their finger on the pulse of what makes a luxury watch truly coveted. After all, the most beloved and classic luxury watches are often passed down to the next generation as treasured heirlooms, revealing that quality is just as important as aesthetics.

If you are searching for a watch that will really stand the test of time, then keep reading. We have gathered some of the most well-known and well-loved watches in the world, and here we dive into their history and significance as modern market leaders.

Rolex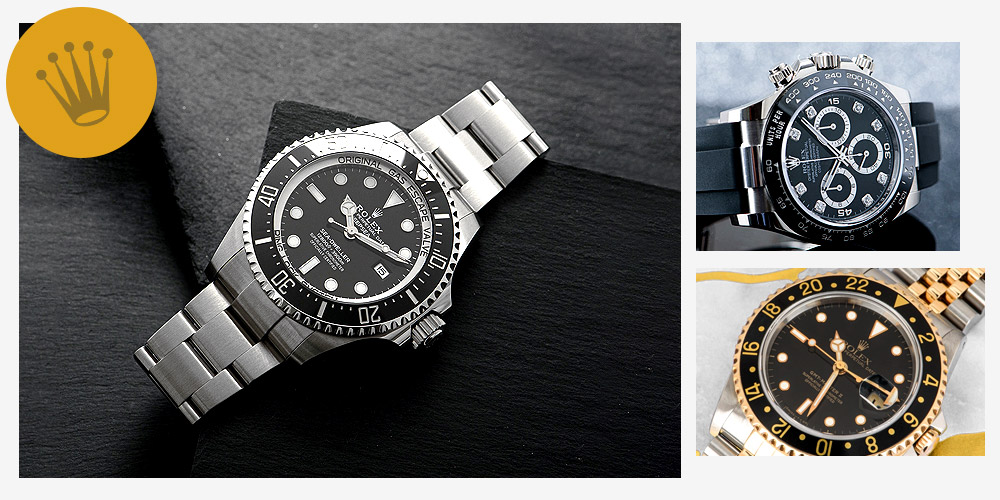 Many consider a Rolex to be the cornerstone of any luxury watch collection - and wearing a Rolex has been viewed as a real statement for many years. Founded in London in 1905 by Hans Wilsdorf and Alan Davis, the company was initially known by the name of Wilsdorf and Davis. Until 1919 the company produced watches in England, before moving the manufacturing process to Geneva in Switzerland - home of heritage timepieces. Since then, the prestige associated with Rolex watches has only increased with each decade, writing the rulebook for many of the other top brands we will discover.

Rolexes have also gained cultural prominence through suave super spy James Bond, known to flash his own Rolex on screen. Producing around 2000 watches every day, Rolex is known for sensationally popular models such as the Rolex Submariner, created for divers but beloved by people from all walks of life, and the Cosmograph Daytona, originally marketed to racecar professionals. Today, a Submariner will set you back around £15,000 for a vintage piece, and can cost in excess of £60,000, while the Cosmograph Daytona costs between around £20,000 and over £150,000 depending on the model.

Rolex watches continue to exert dominance over the luxury watch market due to their impressive steel and 950 platinum construction, along with mother of pearl and precious stones, which makes them as robust as they are stylish. The grooved bezel and Oyster bracelet are earmarks of the brand, as well as their water resistance and trademark date window make them instantly recognisable.


Audemars Piguet
Since its founding in 1875 in the Vallée de Joux, near Geneva, Audemars Piguet has grown to be considered one of the best watch brands across the world. When Jules Louis Audemars and Edward Auguste Piguet began creating these watches, they did so with innovation in mind, and this is evident in the brand choices to use stainless steel, a non-precious metal, in a luxury watch. This has not held the brand back - far from it!

Their popular model, the Royal Oak, was the first steel sports watch on the luxury market, and even today can cost around £100,000 (with some models retailing at less). Going one step further, the Royal Oak Offshore watch was designed for divers, and can still cost between £20,000 and up to almost £200,000 depending on the vintage of the model. Known for using high-quality materials and skilled professionals to create each watch, each Audemars Piguet watch is designed with great care down to the smallest detail, such as the use of white gold screws. These extraordinary pieces are chosen by those who value a stylish statement piece.

Chopard
Bursting onto the watchmaking scene in 1860 Switzerland, Chopard was founded by Louis-Ulysse Chopard. While the company has changed hands over time, the commitment to creating luxury timepieces has not changed a bit. Loved by both those who love high-quality jewellery and those who value the history of this brand, Chopard watches are traditionally created using the best materials such as stainless steel and real diamonds. Some of the most popular models include the Mille Miglia line, which was created as a sports watch suitable for racing drivers, and today can be purchased for less than £10,000.

Another well-loved piece is the Happy Diamonds watch, an icon of the 1970s which was the first watch to use moving diamonds inside a watch face, and utilised a design inspired by water. The Happy Diamonds continues to thrive today, costing upwards of £4000. Each Chopard watch is stamped with the Geneva Seal to show the brand's continued commitment to aligning its creations with the high standards associated with watchmaking in Switzerland.


Cartier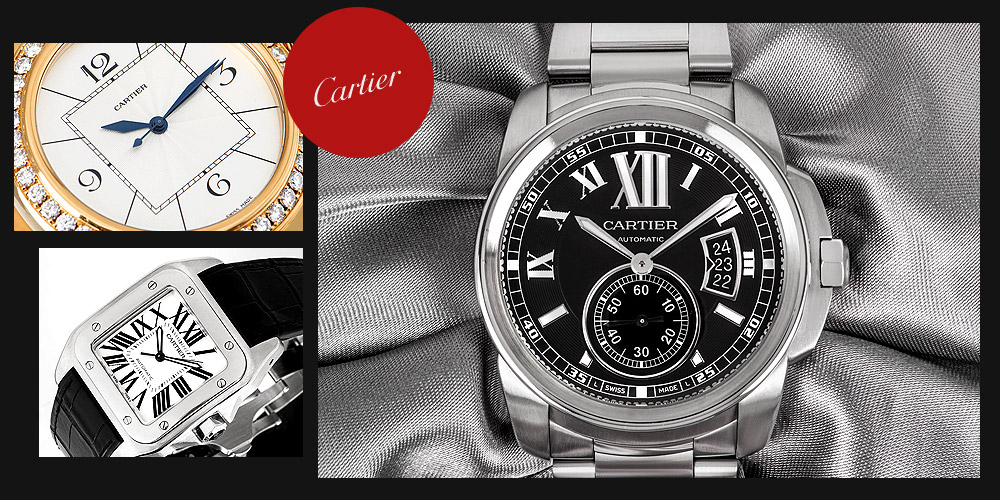 Breaking away from Swiss dominance, Cartier was founded by Louis-Francois Cartier in 1847 in Paris. Now known as much for stunning jewellery as watches, Cartier is a benchmark of luxury in many different walks of life. There are a huge amount of iconic Cartier watches that have been created in their nearly two-hundred-year history, but some of the leading pieces include the Cartier Tank, worn by fashion icons such as Audrey Hepburn and Yves Saint Laurent. This watch is known for its rectangular face and was inspired by the tracks of tanks - boasting the trademark Cartier roman numerals in its stylish yet simple face. Today, a Cartier Tank can cost between £2000 and £10,000 for a standard new model, with vintage versions being much more.

Cartier is known for sleek minimalism and unisex appeal, with the iconic engraved case back and high-quality materials such as stainless steel, silver, and white or yellow gold. All of these features add up to watches that are instantly recognisable to those in the know.

Piaget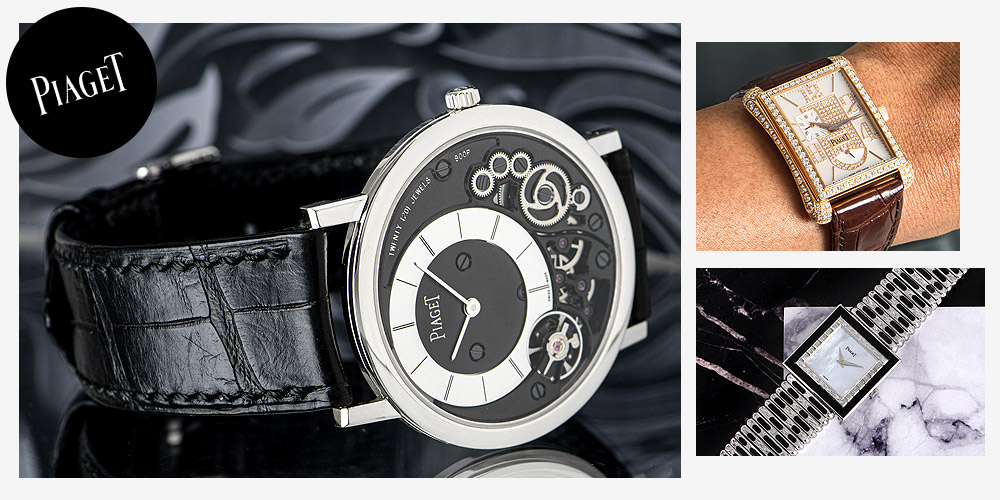 Swiss brand Piaget has an unexpected and humble history. Founder Georges-Edouard Piaget was only nineteen years old when he opened a workshop on his family farm in 1874. From this seed of passion, one of the most well-known luxury watch brands was soon to take over the world. Piaget himself was dedicated to precision and detail, and this is reflected in every Piaget watch created throughout the last decade and a half. Perhaps best known for the Piaget Polo line (which can cost between £10,000 and nearly £100,000) and for creating the world's thinnest manual winding watch in the 1950s, Piaget watches are recognised for their use of luxurious platinum and gold, as well as diamonds - which are considered to be some of the purest jewels used in watchmaking.


Vacheron Constantin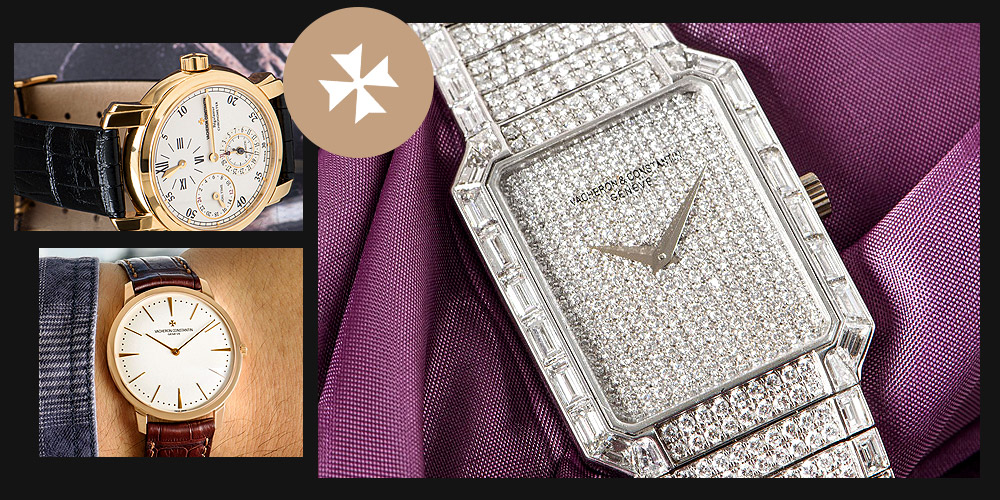 Swiss Vacheron Constantin was founded in 1755 by Jean-Marc Vacheron, making it one of the oldest luxury watch brands in the world. Time has not reduced the quality and prestige associated with Vacheron Constantin timepieces, however - if anything, it has only increased the pride that comes with owning one of these stunning timepieces, steeped in history and dedication to the craft of watchmaking.

There are many popular watches under the Vacheron Constantin brand, as you may imagine for such a long-lived company. The FiftySix is considered to be one of the more affordable luxury watches on the market, though some models cost around £35,000, combining delicate mechanics with careful construction and aesthetics. Vacheron Constantin watches are known for their beautiful use of gold and other precious metals, combined with soft and sturdy leather bracelets - and also, interestingly enough, for creating one of the most complicated watches in the world, which is coveted by collectors across the globe.

Patek Philippe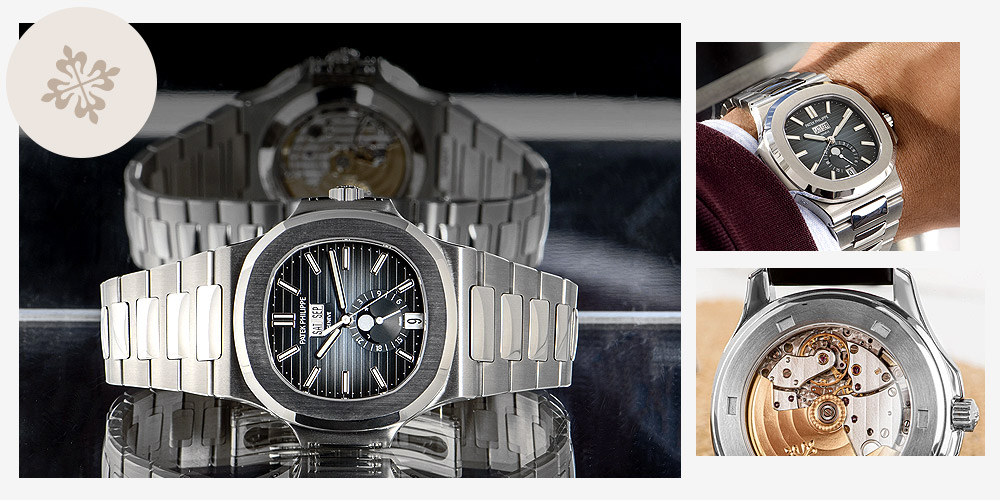 A byword for luxury in many watch collecting circles and beyond, Patek Philippe completes this list of sought-after luxury watches. Another watchmaking dynasty from Switzerland, Patek Philippe was founded in 1839 by Antoni Patek and Adrien Philippe. The Nautilus 5711/1A is a watch that has received a lot of praise from dedicated collectors and watch aficionados, which can cost over £30,000 for a steel model and around £100,000 for a diamond set model.

Some Patek Philippe models have been known to sell for millions of pounds, and it isn't hard to see why - these watches are created using the best materials such as solid gold or platinum, without mixing these with alloy metals. Perfect for detail-orientated enthusiasts, Patek Philippe watches boast faceted batons and delicately hand-polished hands, telling a tale of superior skill and expertise.


Each of these incredible luxury watches has a story to tell and plenty of history behind it. Owning a luxury watch has been a marker of style and substance for decades, an investment and a way to commemorate special moments from graduations to weddings to retirements. If you wish to become part of the legacy of luxury watches and choose your own stunning, high-quality timepiece, then you can trust WatchCentre to have exactly what you are looking for. We sell the most popular watch collections in the world, many of which have been mentioned already. Whichever watch you want to take home, you can find it in our carefully curated yet extensive collection.