Understanding

Audemars Piguet

Serial Numbers

Any luxury watch collector will tell you that serial numbers are one of the most important things to consider when purchasing a watch, especially a pre-owned one. The serial number on a watch will tell you the date of its production, providing a near-accurate estimation of when it was manufactured. This can be used to help trace its authenticity, which can significantly impact its value. This is especially important when buying a luxury watch that is pre-owned as it ensures the value the seller is charging for it reflects its condition as well as how long ago it was produced.

Audemars Piguet is a Swiss manufacturer of luxury watches and clocks. Its history dates back to 1875, when it was founded by Jules Louis Audemars and Edward Auguste Piguet before acquiring the name Audemars Piguet & Cie in 1881. It is still just as popular today and is one of the most acclaimed luxury watch brands in the world, producing some of the finest, most highly coveted watches on offer in the industry.

Below, we explain how to understand the serial and movement numbers of Audemars Piguet watches.


Where Can I Find My Audemars Piguet Serial Number?
Each watch manufactured by Audemars Piguet has a unique serial number, which you will find on the case back. You will also find it on your warranty card and certificate.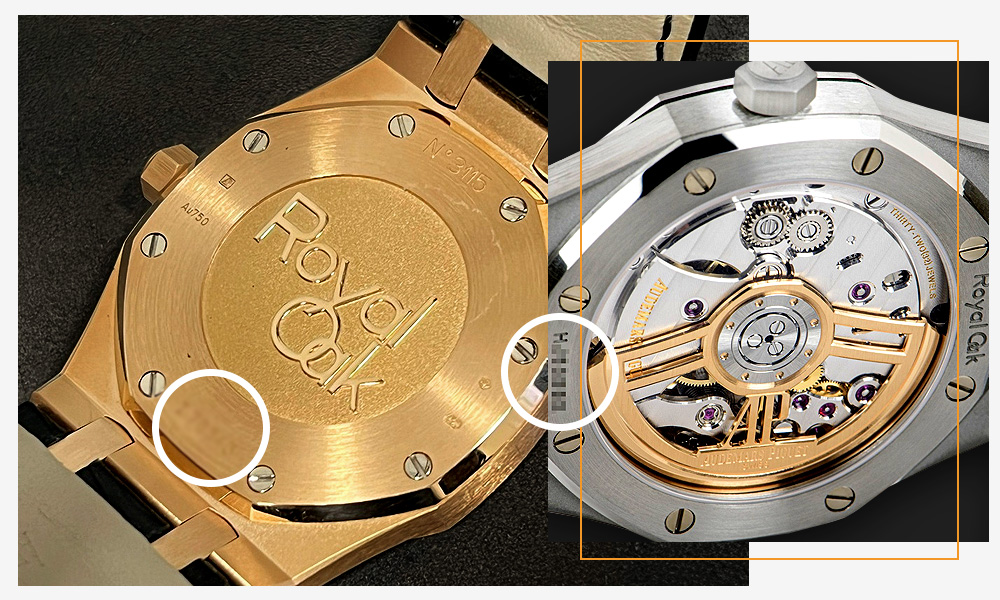 What is the AP serial number?
Each year, Audemars Piguet manufactures around 40,000 watches. Each watch has a sequence of numbers on its caseback, and since 1975 this numbering was also preceded by a letter.  This letter changes after every 100,000 watches. By factoring in how many are estimated to be produced yearly, 40,000 watches, we can estimate that this sequential number changes every two and a half to three years. This will help when estimating the year of manufacturing as you look at your sequential number and know that it was made around three years after watches with the sequential number prior.

The table below cited from Audemars Piguet Heritage team illustrates the approximate dating based on the case serial number:

This numbering continued until 2017, when the letter K was displayed. At that point, the case numbering system changed again to a succession of random numbers and letters.

Prior to 1951, for the first 75 years of production, the serial number was identical to the movement number.


The Audemars Piguet Movement Number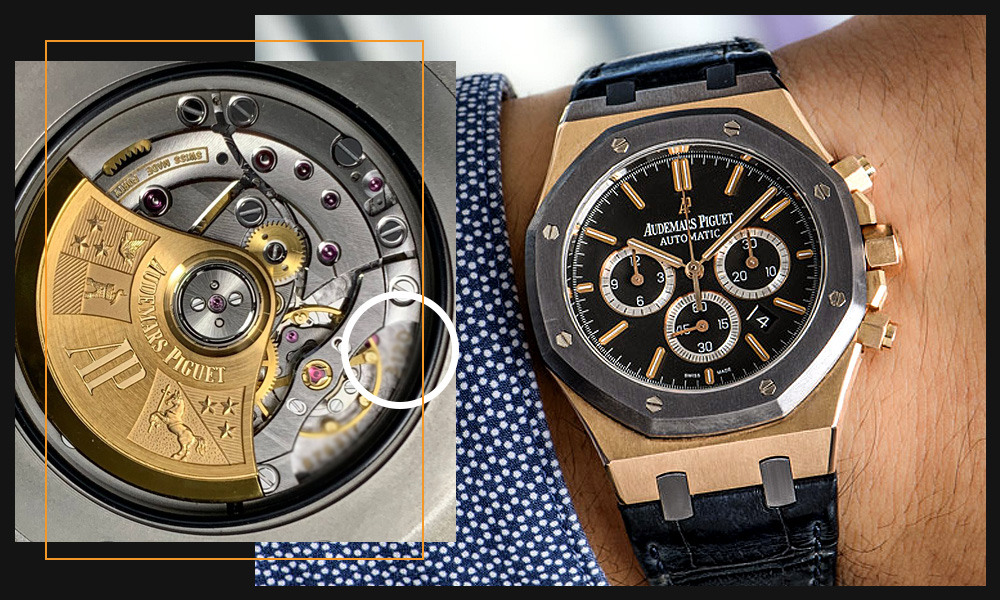 Every watch will also have a unique movement number as well. While the Audemars Piguet Serial Number is a unique identifier for each watch, which is used to verify authenticity. The Movement Number is the reference of the movement inside a specific watch, such as mechanisms and functions, and can help to identify parts that may need to be replaced. The Movement Number can be found on the movement's bridge, which is visible only if the caseback of the watch is transparent, otherwise it would need to be removed to be seen.

Each movement number is transcribed in a Production Register (Registre d'Établissage), with the oldest register in existence dating back to 1882 starting with the number 2000.  Audemars Piguet watches never feature a movement numbered 1000000. After 999988, the company implemented a two letter/four digit alphanumerical numbering system, beginning with AA0001 and ending at AA9999. This six-digit system then moves on to AB0001, and so on. 

The table below illustrates approximate dating for the production dates based on their movement number:


Audemars Piguet Reference Numbers
In comparison to a serial number, a watch's reference number is its model number. This identifies the watch's model as a whole and by using it you can usually gain information about the watch type, material, dial and movement.

The reference number of an AP is usually structured as 11111AA.BB.2222CC.33, by then checking the AP website or warranty book, you can compare the numbers to reveal the materials, dial and movement.

11111AA.BB.2222CC.33
The first numbers represent the model number. 
‍
11111AA.BB.2222CC.33
The proceeding letters refer to the material of the watch, such as:
CB – White Ceramic
PT – PlatinumIO – Titanium and Ceramic
OR – Rose Gold
CE – Black Ceramic
RO – Rose Gold and Ceramic
SA – Steel and Yellow Gold
BC – White Gold
BA – Yellow Gold
SO – Steel and Ceramic
ST – Stainless Steel
SR – Steel and Rose Gold
TI – Titanium

11111AA.BB.2222CC.33
The next pair of letters are code for the bezel. Common bezel codes include:
‍
GG – Frosted (Hammered) Gold Bezel
OO – Smooth Bezel
YG/YY – Colored Gemstone-Set Bezel
ZZ – Diamond-Set Bezel

11111AA.BB.2222CC.33

The next set of numbers and letters indicate the bracelet/ strap code, which usually matches the case material code, but in cases where it doesn't, these codes may be referenced:
‍
KB – Rubber-Coated Strap
CR – Leather Strap
CA – Rubber Strap
VE – Calfskin Strap

11111AA.BB.2222CC.33
The final numbers are unique for each watch as they are the dial code of each model.


How to Authenticate Your Audemars Piguet Watch
If you are interested in selling or buying an Audemars Piguet watch, it is important to have it authenticated correctly. Some steps to take to authenticate a watch include:

Check the serial number
Using the information above, check the serial number. Look for numbers or letters that are placed incorrectly or don't match the official Audemars Piguet reference codes.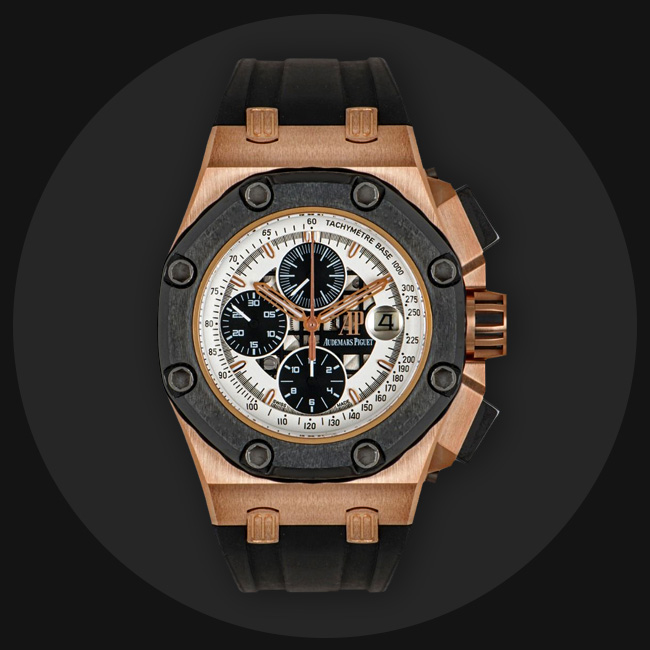 Check the source
If you are buying a watch, only purchase the watch from a reputable seller or company that has experience in dealing with luxury watches and testimonials to prove their reliability. If a private seller unwilling to share their identity is trying to sell you a 'genuine' Audemars Piguet watch at a price too good to be true, they are likely trying to sell you a counterfeit watch.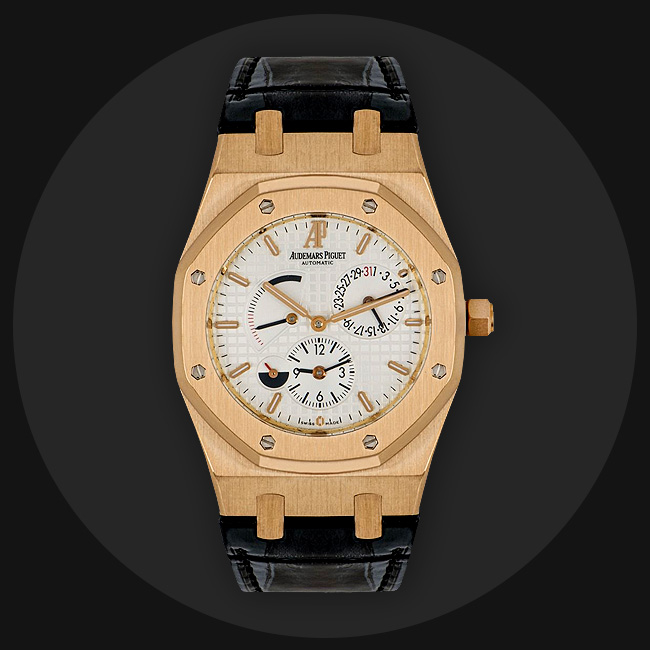 Take it to an expert
To authenticate your Audemars Piguet watch it's always important to use a trustworthy and reputable dealer. A Certificate of Authenticity can also be requested upon your visit and examination.


Buying Audemars Piguet Watches
If you're thinking of buying an Audemars Piguet watch, you will need to consider different features of the watch such as what model, style, material and clock face you may prefer. If you are unsure what style of watch you desire, it is beneficial to visit a store and talk to a sales representative as they can discuss options you may like.

For example, if you would like to wear a watch for fashion purposes and special occasions, you may prefer a watch with a diamond set and leather strap. On the other hand, if you would like a watch you can wear daily, you may be better suited with a watch that has a robust metal frame.

At WatchCentre we buy and sell a range of pre-owned Audemars Piguet watches. We offer a range of styles and materials varying in look and size. From more unique styles like our Cocktail, White Gold Diamond set to our more traditional range of Royal Oak watches.

Shop Audemars Piguet Watches