The Best Christmas Gift for a Glamour girl
The majority of girls are now in touch of the glamour tendencies. Thinking themselves super-mega it girls modern young ladies need pieces with jewels, strass or what not. And the more the better. So the easiest way to make your sweetheart feeling herself on haven just buy her some designers' cool bling-watches. For example, one of the top fashion brands Gucci Pink G Chrono Watch.
Its quartz chronograph movement which is cased in a 44mm diamond/stainless steel case is among the main watch technical characteristics. The pink crocodile strap (oh, yes… that pink – classic girlish color) harmoniously matches with the dial and 54 diamonds beset on the dial, weighted 0.78 carats.
Then goes Perrelet Diamond Flower Women's Watchcollection made of diamonds and rubies. Very practical: you are gifting watches and flowers at the same time. Moreover those flowers will desperately stay till Valentine's day and even more. Self-winding quartz mechanism suit glamour girls the most, in this case they just could not forget winding the watches and again be late!
And it is no coincidence in gifting this watch model to your dear. The dial is decorated with the lotus flower – symbol of… sexual purity. Rather reasonable price for such an expensive gift.
For romantic-natured girls you should consider Anne Klein watch with Swarovski.
If your baby is a bit infantile find for her funny models like Kenneth Jay Lane Fruity Enamel Stretch Charm Ladies Watch with gold tone stretch watch bracelet, cute strawberry charms and glamour mother of pearl dial.
If you are not sure about your girl's favorite color try watches with strap sets. Corum Women's Debutante includes 2 diamond bracelets watchwithits three exchangeable, slender 2-millimeter, bracelet-style bands, made of stainless steel and pink topaz, blue topaz, and yellow-green peridot respectively are perfect for this case.
Don't forget about Manhattan Women's Crystal Interchangeable Bezel Watch Set so that your woman won't need 3-4 timepieces for each dress. Thus she could easily choose from Watch Set 6 interchangeable bands and 11 interchangeable bezels to accessorize any wardrobe.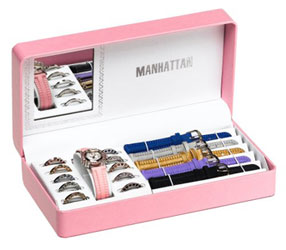 And at last Tag Heuer Diamond Fiction Watches – the pearl of the glamour watch collection. Though the price of this horology masterpiece is about $160,000 (the watch has 879 diamonds) this watch is the best way to say HOW MUCH you love her! And while you woman is pressing a button to know the time; the diamonds are changing the color in red, reminding your heartbeat.