A History Of
Cartier Watches

Cartier is one of the world's most renowned luxury jewellers and its wristwatch designs have been some of the most popular and influential timepieces to have ever been made. In this article, we explore the history of Cartier's watches and highlight some of the most important models to come out of The Maison Cartier.


Cartier's Origins and rise in popularity
Louis-François Cartier founded his brand in Paris in 1847 after taking over his master's jewellery-making workshop at 29 rue Montorgueil. Nine years later the brand was launched into high society when Princess Mathilde, cousin of Emperor Napoleon III, purchased a piece of Cartier jewellery for the first time. This paved the way for the brand to reach the most elite members of French society.

In 1898, Louis-François' grandson, also called Louis, joined the business and his influence helped to expand the brand's reach on an international level. In 1899 he moved the Paris branch to Rue de la Paix, a street in the centre of the city that is renowned for its luxurious fashion houses and jewellers. Louis was responsible for developing the brand's celebrated mystery clock design which has a hidden mechanism and transparent dial. He also played an important role in the development of Cartier's bold Art Deco designs which featured abstract and geometric shapes and colourful jewels.

Louis' brother Pierre opened a new Cartier branch in Burlington Street, London, in 1902 and this was an important step in growing the brand's international status. By 1904 the brand was granted a royal certificate by the court of King Edward VII of England and this cemented Cartier's reputation as a purveyor to royalty. Soon after, the royal courts of Spain, Russia, Siam and many others made Cartier official suppliers of jewellery.
The first cartier watch
It was Louis Cartier who developed the brand's first wristwatch in 1904 at the request of pioneering Brazilian aviator Alberto Santos-Dumont. Alberto was a good friend of Louis and he expressed frustration at the impracticality of pocket watches when flying, since both hands had to be kept on the aircraft's controls. Louis came up with a simple, elegant and practical wristwatch with a flat face and small, square bezel that allowed the time to be read at a glance. The watch was named the "Santos" and it became Cartier's first wristwatch for men.

Up until the early 1900s, wristwatches were relatively uncommon and were worn predominantly by women. They were seen as bracelets rather than practical timepieces. Crude versions of wristwatches had been used in the military since the late 19th century, but these versions were bulky pocket watches attached to basic leather straps. Cartier's Santos watch is therefore credited as being one of the first modern wristwatches for men, along with those created by Dimier Frères & Cie and Wilsdorf & David (which later become Rolex).

In 1907, Cartier established a contract with French watchmaker Edmond Jaeger who agreed to exclusively supply the movements for the brand's watches. The Santos collection didn't go into mass production until 1911, by which point there was a huge demand for this iconic square watch. Since then, Cartier has become known not only as an influential jeweller but a pioneering watchmaker, and the brand's designs have had a major influence on the evolution of wristwatch style over the last century.

Let's take a look at some of the most iconic Cartier watches and collections.

iconic watch collections from cartier
Cartier Tank Collection
Louis Cartier was inspired by the rugged, boxy look of Renault armoured tanks that were used in World War I trench warfare. He wanted to create a robust, masculine and refined watch, so he emulated the shape of tank tire treads by creating rectangular lugs on the side of the watch case. There have been several iterations of the Tank over the years since its release in 1917, including the Louis, the Must, the Américaine and the Francaise, and this is arguably Cartier's most iconic style of watch. New Tank watches start from around £2,400 with the most opulent models running all the way up to £80,000.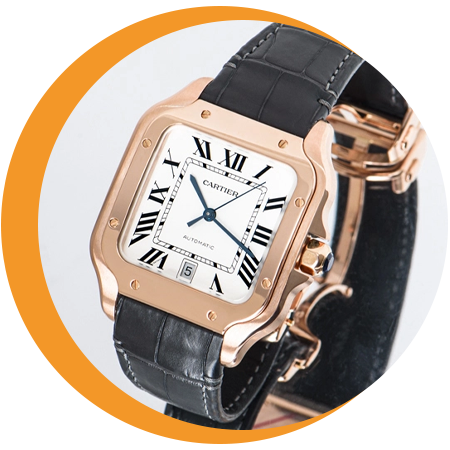 Santos De Cartier
The original Santos was gold with a leather strap, which made it ideal for everyday wear. It featured roman numerals and the bezel was secured with eight tiny screws, and these key features remain in modern Santos watches. The design remained largely the same for several decades until 1978 when Cartier revamped it with a metal bracelet and new bi-metal steel and 18 karat gold version. A further redesign occurred in 2004 when the Santos 100 was released to celebrate the 100th anniversary of the model. The 100 returned to the classic leather strap and received all-new superior movements, as well as brand new chronograph and skeleton iterations. New Santos watches start from around £3,250 and run up to around £57,000.
Ballon De Cartier
The Ballon Bleu de Cartier was launched in 2007 as a rebellion against the highly embellished watches that were popular among luxury watchmakers at the time. The Ballon Bleu is an elegant and understated unisex watch. It has a circular case with slender straps which gives it a shape reminiscent of a hot air balloon. A bridge protrudes from the side of the case to protect the winder and the dial's guilloché pattern mirrors this shape. The side profile of the watch shows that the bezel and glass connect seamlessly to create a smooth and unbroken curve that perfectly mirrors the curve of the case back. The Ballon Blanc de Cartier is a significantly more opulent version featuring a variety of precious gemstones and a bold diamond set into the crown. New Ballon watches start from £4,200 and the most luxurious, diamond-studded varieties reach in excess of £100,000.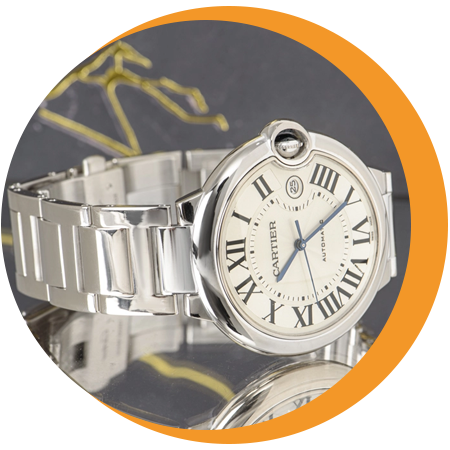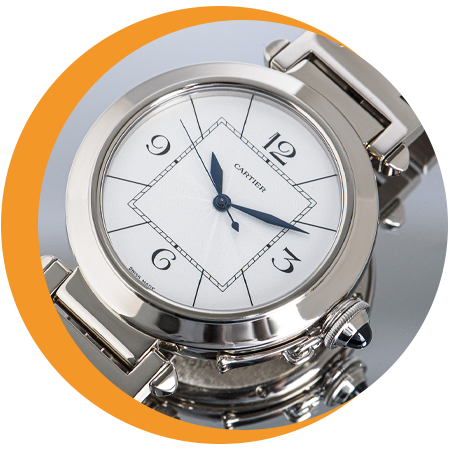 Pasha De Cartier
The Pasha watch was launched in the 1980s and became a cult hit thanks to its iconic round case, oversized Arabic numerals and chain that connects the crown cap to the case. It is thought that Pasha was inspired by a water-resistant watch that Cartier made in 1933 for the Pasha of Marrakesh. The watch has a fresh, sporty yet elegant design that Cartier recently updated in 2020 with a modern makeover. Brand new Pasha watches range between £4,550 and £114,000.
Ronde De Cartier
The Ronde de Cartier wristwatch was first created in the late 1930s and has endured several iterations. It's known for its large, circular case, inward-bending lugs and traditional roman numerals, all of which give it a timeless charm that is understated and effortlessly sophisticated. New models range between £2,200 for leather strap varieties and £55,000 for diamond-embellished varieties.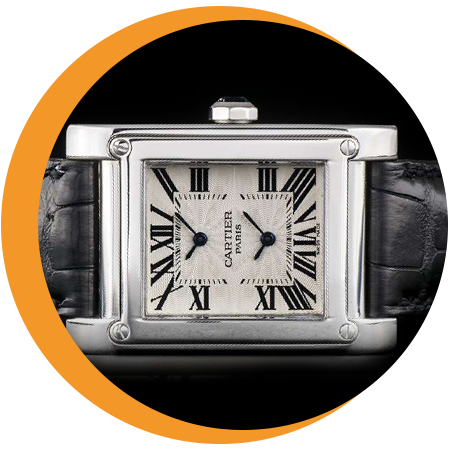 Cartier Prive
Cartier Prive is a collection of watches that celebrates the brand's most important historic designs. Each year Cartier celebrates one of its past collections and produces a limited number of watches with updated features and luxurious specifications. Prive watches are relatively rare and make for excellent investments since they're set to be discontinued after a limited time.
cartier watch fAQs
Q: What was the first Cartier watch?
Santos de Cartier was Cartier's first wristwatch for men, which was created in 1904.

Q: Who invented Cartier watches?
Louis Cartier developed the brand's first wristwatch in 1904 at the request of pioneering Brazilian aviator Alberto Santos-Dumont.

Q: What country are Cartier watches made in?
Cartier watches are made in Switzerland; one of the biggest production facilities in the country. The 30,000 metre squared spectacular glass building is located in La Chaux-de-Fonds.

Q: Did Cartier make the first ever wristwatch?
Yes, Cartier designed the first ever modern wristwatch. Crude versions of wristwatches had been used in the military since the late 19th century, but these versions were bulky pocket watches attached to basic leather straps. Cartier's Santos watch is therefore credited as being one of the first modern wrist watches for men.