Are Audemars Piguet Watches
a Good Investment?

The world of luxury watches can be quite lucrative for people who understand the market. When you know which models to invest in, not only will you have beautiful watches to wear and enjoy, but you will also have a "nest egg" that will grow in value over the years.

One brand considered to be a good investment is Audemars Piguet, the luxury Swiss watch manufacturer founded in the 19th century in the mountain town of Le Brassus. The brand has established an outstanding reputation for high quality, precision and fine craftsmanship over the years.

Experts say Audemars Piguet watches will never let you down, both in practical and financial terms. The reliable and revered brand has never depreciated in value. Read our in-depth guide to find out why Audemars Piguet is such a good investment.


History Of Audemars Piguet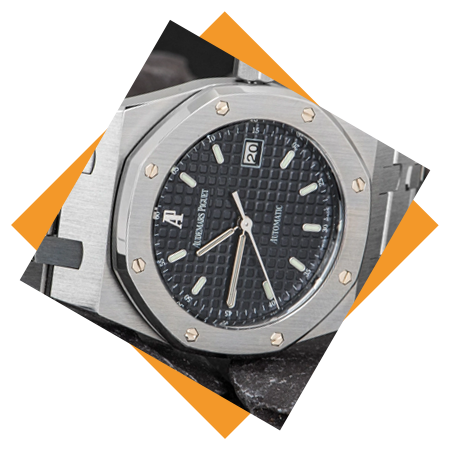 Watchmaking was a useful skill in 19th century Switzerland, where farming was the main source of income for many communities in the mountain villages. However, in winter, when the land was dormant, the locals needed a second trade.

Two local men, Jules Louis Audemars and Edward Auguste Piguet, both trained as watchmakers. This was a popular profession of the era, as it was something craftsmen could do from their own homes. Audemars' father was a watchmaker, as well as a farmer. He had a workshop in one of the farm buildings.

In 1874, when Piguet was 21 and Audemars was 23, they decided to become business partners. They set up Audemars Piguet & Cie in 1875, based in the Audemars' farm workshop. Piguet's business acumen in managing the company and sales, combined with Audemars' technical prowess in watchmaking, ensured the brand's rapid growth.

The company's first manufacturing centre, built in 1907 next to the farmhouse, still houses part of its headquarters today. Despite growing into a globally successful 21st-century company, employing hundreds of people, Audemars Piguet has retained its family roots.

It remains a family-owned business and continues to produce small collections of finely crafted, exclusive, luxury watches today. This is the key to Audemars Piguet's success.

The best audemars piguet watches for investment
Audemars Piguet Royal Oak
Ask any collector to name one of the brand's most famous watch models and the Audemars Piguet Royal Oak will come to mind. The brand unveiled its flagship watch at the annual Swiss watch show, Basel World, in April 1972. The luxury steel watch with integrated bracelet is characterised by its daring and revolutionary design.

The Royal Oak, created by the famous Swiss watch designer and artist Gérald Genta, soon became a huge international success. Today, it remains one of the most iconic watches in history. The design, inspired by a traditional diver's helmet, features an octagonal shaped bezel secured by visible screws.

It also has a water-resistance gasket, while the dial is adorned with an exclusive blue tapisserie motif. With its 39 mm diameter case, the Royal Oak was huge at the time, yet the 7 mm depth of the case made it one of the slimmest models on the market. The integrated stainless steel bracelet completed the iconic design.

With a price tag of £2,700, it was costlier than most gold watches at the time. However, if you're lucky enough to have a Royal Oak from the 1970s, in good condition, its value will have appreciated to around £105,000 today.

In terms of investment, this is immense. A significant appreciation in value is common across the whole Audemars Piguet luxury watch range, hence its reputation as one of the best investment brands on the market.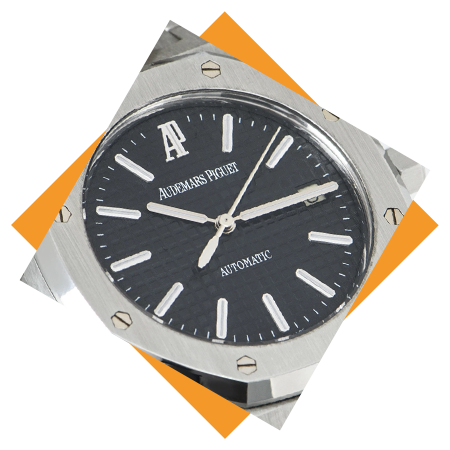 Royal Oak Concept Tourbillon Chronograph
The evolution of the Royal Oak has been incredible. Since its launch 50 years ago, there have been many innovative developments in Audemars Piguet's flagship collection.

According to data compiled by expert collectors and pre-owned and vintage watch sellers, various versions of the Royal Oak make up four of the top five collectible Audemars Piguet watches.

Top of the list is the Audemars Piguet Royal Oak Concept Tourbillon Chronograph. The watch is beloved by celebrities in the contemporary music industry, including Jay-Z, Rick Ross and Lil Wayne. The 22-time Grammy Award winner Jay-Z has helped push the value of the model sky high after declaring it his preferred timepiece in 1997.

The perfect find for watch collectors, the model features an amazing design. The front portion and the back of the case are fitted with scratch-resistant, clear sapphire crystal, which is water-resistant to a depth of 100 metres. With an eye-catching 44 mm rose gold case, its most prominent feature is the dial.

It comprises the main plate of the calibre 2941 hand-wound movement, while the time indicators mark the watch's brown inner bezel. The convenient features include a hefty 237-hour power reserve.
Royal Oak Offshore Chronograph Volcano
The sophisticated, stylish and extremely accurate Royal Oak Offshore Chronograph Volcano is the preferred choice of pro basketball player LeBron James, of the Los Angeles Lakers. It blends the classic octagonal Royal Oak bezel with stunning orange accents.

It has a 42 mm stainless steel case, with eight hexagonal screws holding the bezel in place. Sapphire crystal protects the black Méga tapisserie dial and bezel. Featuring a tachymeter scale, the watch has white-gold hands with a luminescent finish to ensure it's visible at night.

It runs on a 59-jewel calibre 3126/3840 self-winding movement and has a power reserve of 50 hours, a chronograph and a date display.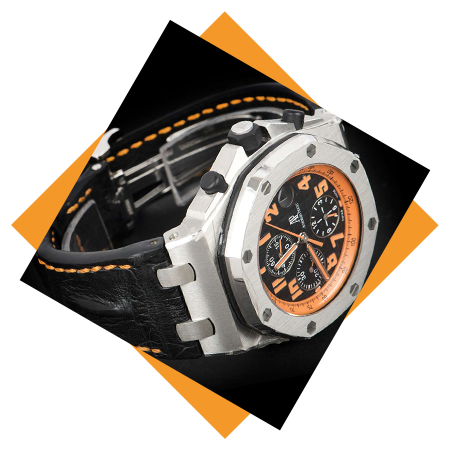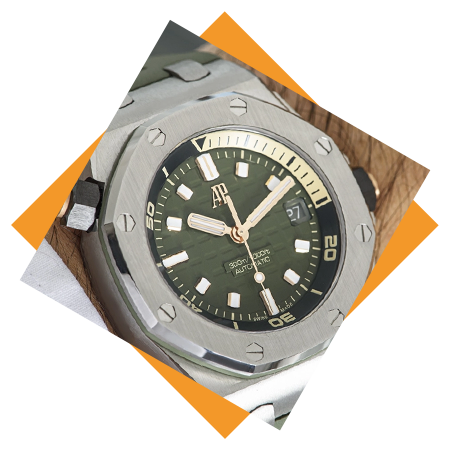 Royal Oak Offshore Diver
Nothing is more useful to a diver than a wristwatch that can be worn for underwater activities and afterwards on dry land. The Royal Oak Offshore Diver, an automatic timepiece, fits the bill. It boasts exceptional features, including a rotating inner bezel with a diving scale.

Water-resistant to a depth of 300 metres, the 40-jewel, calibre 3120, self-winding movement has a power reserve of up to 60 hours and provides an accurate six beats per second. This model features a Méga tapisserie dial, white gold hands and hour indicators coated in luminescent material so it can be read at the depths of the ocean.
Royal Oak Offshore Chronograph
The Royal Oak Offshore Chronograph has a sleek racing design, a silver-hued Méga tapisserie dial, classy sub-dials and white gold luminescent hands. A black ceramic bezel, screws onto the 44 mm stainless steel case. The watch is boldly calibrated with a tachymeter scale.

Powered by a calibre 3126/3840 self-winding movement with 59 jewels, it offers high-precision time-keeping and a 50-hour power reserve. The hypoallergenic rubber strap closes with a rustproof, hard-wearing, steel pin buckle.

Audemars Piguet Millenary 4101
The only Audemars Piguet top five watch that isn't in the Royal Oak range, the Millenary 4101 model has an unusual, elliptical, highly-polished bezel on the stainless steel case. Its special dial design makes it the fifth most collectible watch from the brand.

Released in 1995, its limited-edition versions feature a unique off-centre dial and notable balance wheel. It includes an anthracite dial, Roman numerals, rose gold hands and a black seconds dial.

The luxury watch comes in durable sapphire crystal, with its Geneva stripes finish complimenting the visual splendour of the calibre 4101 movement and the perlage on the back.

why are audemars piguet watches a good investment?
Apart from their obvious beauty and functionality, the investment value of Audemars Piguet luxury watches is so high for many reasons. First, the brand has been around since 1875, so its long heritage enhances its trustworthy reputation in collectors' eyes.

The designs are timeless, so although they keep on-trend with watch lovers' needs, the basic shapes never change. Why alter a winning design, other than with the odd "tweak" to ensure it remains up-to-date?

Audemars Piguet is one of the few Swiss watch companies to independently manufacture its own timepieces, so buyers know exactly what they are getting in terms of fine craftsmanship and longevity. The prices are appreciating every year.  Over the past year, according to WatchCharts the prices of pre-owned and vintage Audemars Piguet watches increased by an average of 43%.

The brand's celebrity clientele helps keep it in the news and retains its value. Fans wish to emulate their icons and collectors recognise the financial benefits of show business stars such as Beyonce, Jay-Z, Drake and Kim Kardashian being photographed in their Audemars Piguet watch.

Where to buy an Audemars Piguet Watch?