Are Cartier Watches
a Good Investment?

Many people associate Cartier with creating elegant jewellery, but tend to forget the company started out crafting luxury watches in the mid-19th century. After being granted a royal warrant by King Edward VII in 1904, Cartier became the official purveyor of fine watches to the royal family.

Today, no-one can doubt the brand's pedigree in fashioning some of the most opulent and technically advanced timepieces in the world. Using history as a guide, Cartier watches may well hold or increase in their resale value. While it's impossible to predict how any market will perform in the future, Cartier is one of the most sought-after brands and therefore has very good investment potential.

how the brand became so popular
Cartier has a reputation for creating fine watches that attract some of the wealthiest clients in the world. Since being launched in Paris by Louis-Francois Cartier in 1847, the brand has grown in stature.

The founder was 29 when he inherited the workshop of his tutor, master watch maker Adolph Picard, at 29 Rue Montorgueil. He had ambitious ideas for the simple workshop. By 1856, Cartier's first royal customer was Princess Mathilde of France, who helped boost the brand's profile.

Her patronage enabled the founder to start opening more Cartier boutiques across Paris. His grandsons, Louis, Pierre and Jacques, were at the helm in 1902, when Cartier opened its exclusive new boutique on New Burlington Street, London. King Edward VII granted his royal warrant to Cartier two years later.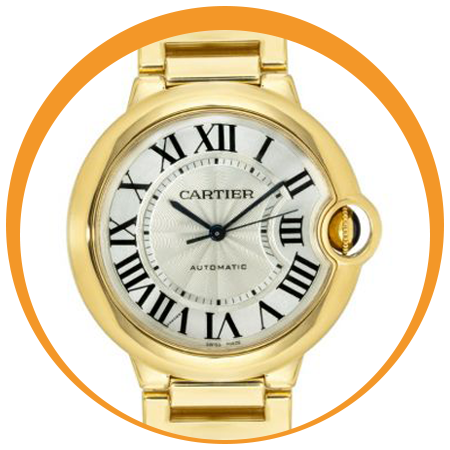 This further reinforced its position at the pinnacle of luxury watch and jewellery making. Among today's global watch connoisseurs, Cartier watches remain highly collectible premium items.

The brand has produced precision watches since joining forces with watchmaker Edmond Jaeger in 1909. A designer of chronometers for the French navy, he created ultra-thin and complicated luxury watches.

Today's Cartier watches have precision movements developed in-house in Switzerland, in the town of La Chaux-de-Fonds, where many cutting edge watch innovations have been created over the years.
Popular Cartier Watch Models
Over the years, there have been many timeless Cartier luxury watch collections, often with their famous trademark design of a square face with Roman numerals.

Cartier's Santos was generally recognised as the first purpose-made wristwatch in 1904. Prior to this, pocket watches were the norm, although innovative wearers would sometimes strap their pocket timepiece onto their wrist!

A Cartier watch is regarded as a luxury commodity, as the brand spares no expense in using only the highest-quality precious metals. Read our guide to learn about the most popular Cartier watches over the years and why they have stood the test of time.

Cartier Tank
The Cartier Tank watch was created by Louis Cartier in 1917. Its design was inspired by the shape of the Renault FT-17 tanks used on the Western Front during World War I. Cartier presented a prototype Tank watch to General John Pershing of the American Expeditionary Force.

The Tank was officially introduced into the Cartier collection in 1918, going into full production in 1919. An elegant unisex watch, it became a favourite among Hollywood movie stars such as Fred Astaire and Clark Gable, United States' First Ladies Michelle Obama and Jackie Kennedy and royalty, including the late Princess Diana.

The watch's strap is integrated into its vertical sidebars, known as "brancards". Over the years, new variations have been released, such as the Tank Louis in 1922 and the Tank Americaine in 1989. The Tank's trademark features include its sword-shaped blued steel hands and bold Roman numeral dial.

The Tank is one of the most sought-after watches in history - and also the most valuable. In June 2017, on the centenary of the model's launch, the most expensive Cartier Tank ever auctioned sold for £315,100 to reality star Kim Kardashian.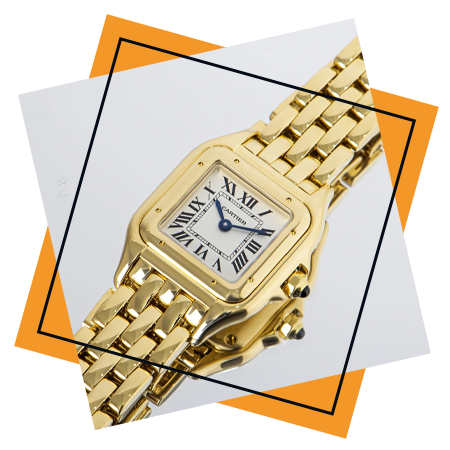 Panthère de Cartier
The Panthère de Cartier is one of Cartier's most iconic designs. The elegant panther motif was inspired by the famous Parisienne style icon, Jeanne Toussaint, who met Louis Cartier in the early 20th century.

As well as her apartment being adorned with leopard-skin décor, Toussaint was an elegant woman who was nicknamed "La Panthère" by Cartier. She became the jewellery house's head of creation, a role not normally held by a woman. Her iconic panther motif was known for its colour combination of yellow gold and black enamel.

The panther first appeared on the Panthère de Cartier wristwatch in 1914 in a spotted diamond and onyx pattern. Precious stones adorned the watch, giving it a rare combination of femininity combined with the wild allure of the big cat. The design launched a new collection of Cartier pieces, including bracelets, rings and earrings.

With their famous square case, sleek link bracelet and rounded edges, Cartier Panthère watches are a timeless style icon. Prices range from a relatively modest £1,600 for a pre-owned stainless steel model up to more than £83,000 for a diamond-set, ornate luxury Panthère watch in gold.
Santos De Cartier
The Santos De Cartier collection has a fascinating background. Louis Cartier designed a wristwatch in 1904 for his close friend, Alberto Santos-Dumont, a Brazilian pilot who needed a highly accurate watch that would enable him to check the time without taking his hands off the plane's controls.

The resulting Santos De Cartier watch was first mass-produced men's wristwatch and first pilots' watch. Santos-Dumont was the first person to be filmed in an aircraft in flight in November 1906. During his 21.5-second flight, he was wearing a Cartier Santos wristwatch, a great advert for the collection.

Cartier has made many modifications to the Santos over the years. It is available in a choice of steel, rose gold, yellow gold or white gold for the case. The bracelet choices include the Smartlink gold bracelet and a luxurious strap with brilliant-cut diamonds.

Today, the price of a Santos De Cartier luxury watch can vary from around £2,400 for a Cartier Santos Lady Stahl Gold Damenuhr model up to £50,000 for a Cartier Santos 100 XL Chronograph Diamond Set model.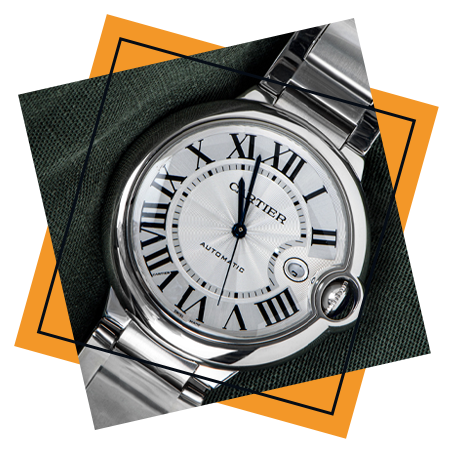 Ballon Bleu de Cartier
The Ballon Bleu de Cartier is one of the more recent models, created in 2007. Designed for both men and women, it combines the technical expertise of precision watch making with the fine lines of luxury jewellery. Members of the royal family, including Kate Middleton, have favoured the Ballon Bleu's elegant lines.

It has quickly become one of the brand's more iconic models and makes up significant portion of Cartier's annual sales. Its name captures the design, with its unique, rounded case shape reminiscent of a smooth pebble. Its other unique feature is an integrated crown guard sloping over a sapphire cabochon crown.

Available in a larger chronograph version, the Ballon Bleu de Cartier's diameter size ranges from 29 mm to 42 mm. Ballon Bleu watches feature small screws attaching the case back to the watch, making it difficult for counterfeiters to replicate.

Today, the price of a Ballon Bleu de Cartier ranges from around £2,500 for a stainless steel watch up to almost £198,000 for opulent diamond-covered models in white gold.
Calibre de Cartier
Another modern collection, the Calibre de Cartier made its debut in 2010. The model's 42 mm case, leather strap, smooth bezel and prominent curved lugs give it a sporty style. The aptly-named Calibre de Cartier collection was powered by the latest 1904-PS MC in-house movement.

With a 48-hour power reserve, date window, running seconds sub-dial and centre hour and minute hands, the Calibre de Cartier boasts several signature design traits, such as Roman numeral hour markers, sword-shaped hands and the blue cabochon set into a faceted winding crown.

In an interesting twist, Cartier chose a mix of Roman numerals on the upper portion of the dial and baton hour markers on the lower half. The sapphire crystal window on the case back provides a view of the in-house movement inside.

The watches were made in a choice of metals, including steel, two-tone rose gold and steel with a chocolate brown or silver dial, or rose gold with a leather strap and choice of brown or silver dial. In 2011, a new Calibre de Cartier collection was released with metal bracelets. The prices vary from around £3,700 to £21,400.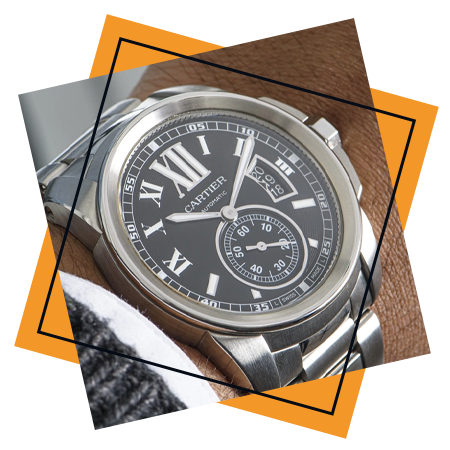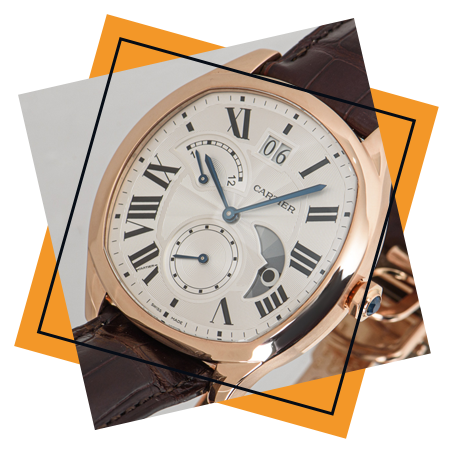 Drive de Cartier
The Drive de Cartier, launched in 2016, is a flying tourbillon watch in 18-carat rose gold. Powered by the 9452MC calibre mechanism, it boasts an exquisite guilloche dial that has echoes of a classic motorcar's radiator grille and a crown resembling a bolt.

With a 40 mm case, it was perfect as a men's dress watch. It came with several dial variations, with the time and date models being made in gold or steel. The Drive de Cartier featured a large date, a second time zone and a day/night indicator.

It remains a staple of Cartier's collection, with a few significant additions, including a symmetrical moon phase. The Extra Flat model was released in 2017, with a plainer dial and a smaller case at 39 mm. This has become the most popular model, either in yellow gold or steel.

There are nine variations of the Drive de Cartier and the price range is quite varied. The original 2016 version, with the 41 mm diameter case and black dial, can be bought pre-owned for around £4,500, while the later 18-carat rose gold model, with 40 mm case, retails at around £15,000.
Pasha de Cartier
Originally created in 1985, the Pasha de Cartier has been a cult watch ever since. It remains contemporary, despite being launched more than 30 years ago. In 2020, the brand released new variations in white, yellow and rose gold.

The 18-carat yellow gold model was £13,700, the white gold was £20,900 and the rose gold was £31,800. In recent years, the Pasha de Cartier's trademark grid has been removable, thanks to an innovative system that relies on four lateral springs.

The latest models feature the Cartier 1847MC self-winding calibre - providing 40 hours of power reserve - and a classic chained crown. The design is known for its round case, elegant face and clear numerals.

The newest versions remain true to the original, while introducing subtle updates, such as the SmartLink bracelet and Cartier QuickSwitch strap release system. Prices vary, with the Pasha Chrono starting at £4,900 and the Miss Pasha at £19,800.

Do Cartier Watches Hold their value?
There's multiple factors that come into play when determining whether a cartier watch will hold its value, such as the materials that are used, the model, its condition and history of owners.

Let's take a look at some examples of models that have appreciated in value in the past.

The vintage Cartier Tank is one of the most collectible watches that still sells for high prices today. With its retro aesthetic, it's ideal as a daily dress watch, with a choice of rose gold, white gold, yellow gold, steel or palladium models. A Cartier Tank Platinum reference W1539951P is around £17,600 on the pre-owned market.

Cartier Santos watches, the pioneers of the air, have also appreciated in value over time, as has the Calibre de Cartier collection. Those with Grand Complications are understandably more valuable. For example, models with perpetual calendars sell for up to £25,000.
how expensive are Cartier watches?