Patek Philippe Vs Audemars Piguet

Patek Philippe and Audemars Piguet are amongst the oldest and most prestigious Swiss watch brands in the world. Both founded in the 19th century, these highly revered luxury watch brands have created some of the most iconic collections in history.

Patek Philippe is famous for its Nautilus collection, often called the world's most sought-after steel luxury sports watch. Audemars Piguet has created groundbreaking models such as the Royal Oak Offshore, an oversized watch nicknamed "the beast" by its fans.

patek philippe

watches

The oldest of the two brands, Patek Philippe, was founded in Geneva in 1839. It remains one of Geneva's last family-owned independent watch manufacturers today. Complex mechanisms are the key to Patek Philippe watches.

The company patented numerous early innovations, such as the perpetual calendar watch in 1889 and the split-seconds chronograph in 1902. The Patek Philippe Caliber 89 watch was the most complicated in the world in 1989, comprising 1,728 individual parts.

The Sky Moon Tourbillon Ref 5002, launched in 2001, sold for just under £597,000, becoming the world's most expensive watch series. Patek Philippe still develops new technology today; its research driving the luxury watch industry forward.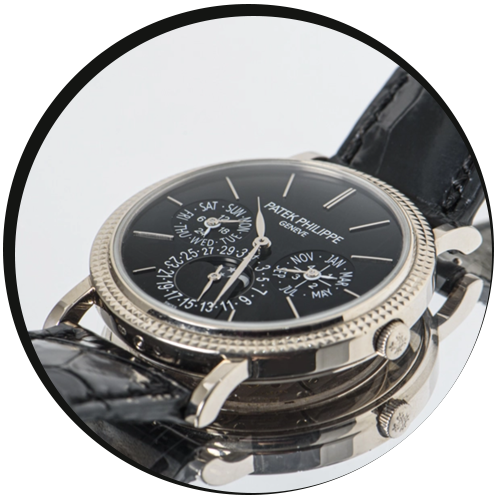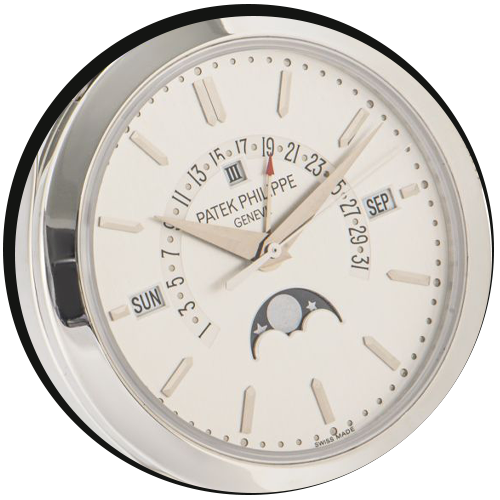 Popular
Patek Philippe

collections

The Patek Philippe Nautilus collection illustrates the luxury watch brand's sporty side. The first models were designed in stainless steel, with their trademark porthole designs created by Gerald Genta in 1976. The most basic model has a three-handed dial, while the high complication watches feature moon phase indicators, annual calendars, second time zones and chronographs.

The Patek Philippe Aquanaut keeps in step with the sporty feel of the Nautilus. It comes with a "Tropical" strap in a unique composite material, which is specially crafted to be resistant to water, abrasions, corrosion and UV radiation. There are quartz and automatic versions of the Aquanaut, with different coloured dials and straps.

Patek Philippe Calatrava watches are renowned for their understated elegance and the classic simplicity of their dials. This stylishly-thin, luxury dress watch showcases perfectly the brilliance of Patek Philippe. Some models have dials with a second counter at 6, while the newer automatic models usually feature the date at 3 o'clock and a central second hand.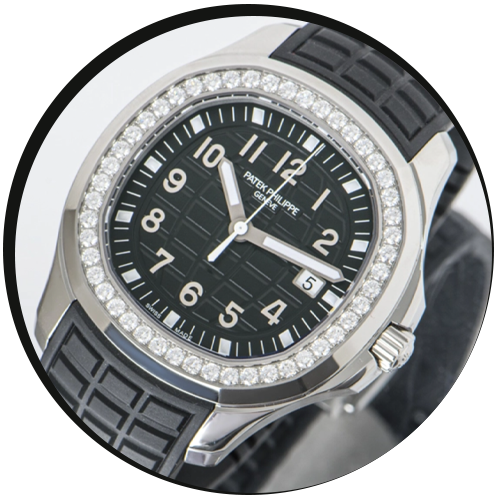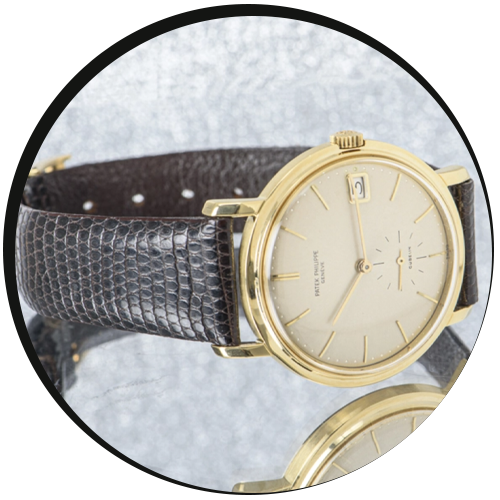 Audemars Piguet

Watches

Founded in 1875, in the Swiss mountain town of Le Brassus, Audemars Piguet also remains an independently-owned luxury watch manufacturer with its own unique identity. Audemars Piguet has always been an innovator, with a focus on creating state-of-the-art new techniques and mechanisms.

The horological genius of the founders, Jules Audemars and Edward Auguste Piguet, laid the foundations for the watches' highly complex works. The brand's production processes combine the traditional with the modern. The famous tapestry dials are still produced on machinery that is up to a century-old to retain their classic feel.

Still based in Le Brassus today, Audemars Piguet watches have the perfect aesthetic appeal.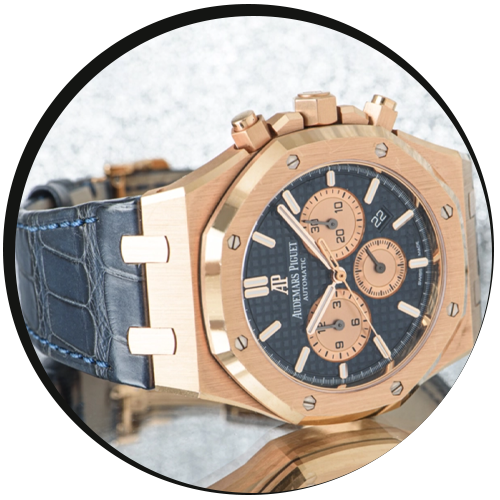 Popular
Audemars Piguet

Collections

The Audemars Piguet Royal Oak is the brand's most popular collection, gaining a huge following after its launch in 1972. The Royal Oak is a luxury sports watch with a recognisable porthole-inspired design that features various complications, such as the minute repeater, perpetual calendar and chronograph.

The Audemars Piguet Royal Oak Offshore is a larger and bulkier watch that evolved from the initial Royal Oak collection. It features the brand's traditional decorated "tapisserie" dial still manufactured by the original methods in Switzerland, pushpiece guards fitted to the 100-metre water-resistant case, a 43mm bezel and sporty chronograph counters.

The classy Jules Audemars watches, named in honour of the founder, are luxury dress watches. They come in a basic two-handed dial model with an ultra-thin case, or more lavish designs, such as the innovative Jules Audemars Tourbillon Chronograph. They are crafted from platinum and feature a skeletonised dial showcasing the exquisite calibre through the dial side.

 
Patek Philippe Vs Audemars Piguet: Prices
The prices of both Patek Philippe and Audemars Piguet luxury watches are not dissimilar. Entry-level watches from both brands start at around £9,000. Of the two, Audemars Piguet watches are perhaps around a few hundred pounds less.

Investing in either Patek Philippe or Audemars Piguet watches is an equally viable option, so your choice is unlikely to depend on the cost. Rather it will depend on which brand you prefer in terms of the aesthetic appeal and technical specifications.

In terms of resale value, some Audemars Piguet watches have performed slightly better than Patek Philippe watches. However, this all depends on the individual model, condition of the watch, whether it is under warranty, has the original warranty documents, instruction manual etc.

A brand new Patek Philippe Calatrava retails at around £15,000 to £22,000. Pre-owned Calatrava watches can be picked up for less. As the watches become vintage or rarer, they tend to increase in value. For a few thousand pounds more, you can invest in the Audemars Piguet Millenary watch, launched in 1995, which is at the lower end of the brand in price terms.

Mid-range timepieces include the Audemars Piguet Royal Oak Chronograph at around £17,000, while top-end watches such as the Royal Oak Offshore range start at between £37,000 and £44,000.

Patek Philippe's mid-range watches include the Nautilus and Aquanaut. They tend to be the same prices as Audemars Piguet's most expensive models. If you invest in a Patek Philippe Grand Complication, you will be paying for the highest degree of horological expertise from the brand, as these watches can reach up to around £428,000.

Where to buy pre-owned luxury watches?
If you're looking to invest in pre-owned Patek Philippe or pre-owned Audemars Piguet watches, you've come to the right place.

As a pre-owned luxury watch specialist, WatchCentre located on Bond Street in Mayfair, offers some of the finest unworn, pre-owned and vintage models in the market. As a leading supplier of luxury watch brands, every pre-owned watch we sell comes with our guarantee of authenticity and a one-year warranty.