Rolex Vs Chopard:
In Depth Comparison

When you think about luxury watches, some brands spring immediately to mind. These are giants of the industry, whose style and history are nearly inextricable from the very idea of a luxury timepiece. Two such leading brands are Rolex and Chopard. Few haven't heard of these luxury watch leaders - and here we take a deeper dive into the history behind them, and their most beloved and iconic timepieces. We will also explore what makes them so popular, and how they remain distinct from one another, while both offering high quality and alluring luxury to watch enthusiasts across the globe.


Their History
Perhaps one of the most interesting parts of a brand's history is its first creation. Rolex and Chopard are such icons, where did their journey begin?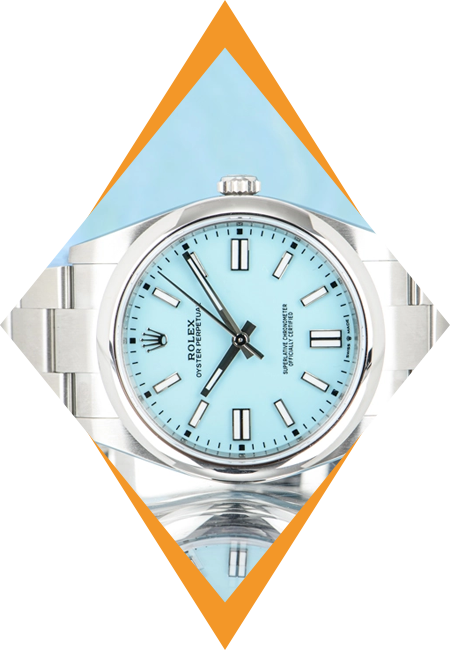 Rolex's First Timepiece
While now, there is a range of Rolex models available on the market, the first iconic timepiece created by Rolex didn't appear until 1926. Its creator had been hard at work honing his skills in watchmaking since 1905, and thus the Oyster Perpetual was born. This self-winding piece was waterproof and was lacking many of the most recognisable markers of the Rolex model today. There was no crown logo, but the Oyster Perpetual was the beginning of one of the most important collections that Rolex has ever created. These watches cost £5 in silver, £10 in 9ct gold and £15 in 18ct gold - while that may seem cheap, remember that each £1 in 1926 is worth nearly £50 today. Which is admittedly still extremely cheap for a luxury watch like Rolex!

Perhaps surprisingly to those who love Rolex today, the Oyster Perpetual was not an immediate hit amongst critics. While this waterproof and dustproof watch has a lot of impressive qualities, some considered it too complex and even frail. However, the watch was quickly considered a must-have item - especially after Rolex asked a swimmer to wear the Oyster Perpetual while swimming the English Channel. Mercedes Gleitze swam with the watch fastened around her neck and proved it to be waterproof enough for even extreme circumstances.

Today, the Oyster Perpetual remains a popular style of Rolex, with modern adaptations combining the original vision of aesthetic elegance and practical aspects, with updated shades for the dial and a variety of different sizes available.
Chopard's First Timepiece
With tradition at its heart, the Chopard brand is known for luxury and quality, and has been since its beginning. While nowadays Chopard is known for a variety of jewellery as well as high-end watches, it did begin life as a watchmaker and the first Chopard watches were actually pocket watches rather than wristwatches. Chopard focused on ensuring that all the components of the watch were made in-house, with the watch being created entirely by Chopard specialists. These watches were best known for paying close attention to every small detail, with expert craft in every timepiece. This care meant that each watch was extremely accurate and reliable, as well as progressing towards being one of the thinnest watches around at the time. The slender aesthetic spoke to the craftsmanship in each timepiece, because each component had to be delicate and perfectly placed - Chopard elevated watchmaking to fine art, ensuring precision was a guiding force behind their work.

Even as the Chopard company changed hands from father to sons and beyond, the brand became beloved by many famous figures throughout history - beginning with royalty like Tsar Nicholas II of Russia.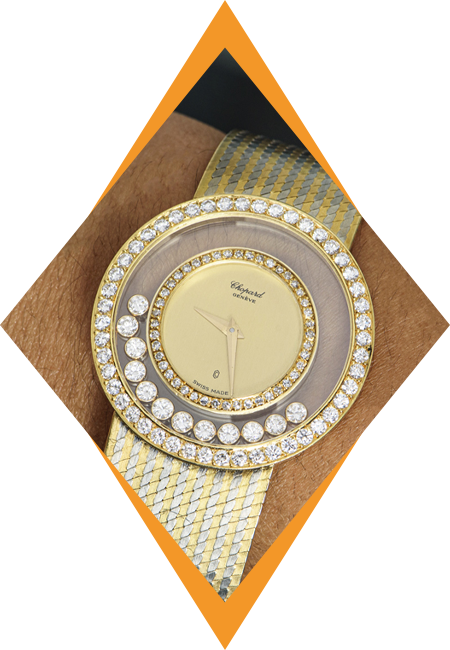 Reputation
A luxury watch brand should have a fantastic and well-documented reputation so you know everything about their commitment to quality and prestige. With rich histories of dedication to watchmaking as a craft and seemingly endless innovation, Rolex and Chopard are two of the most reputable brands on the market today - and they have been for decades.

Rolex
No luxury watch collection would be complete without a Rolex, and there is a reason for that. Rolex was founded in 1905 by Hans Wilsdorf and Alan Davis, though it did not carry the Rolex name initially. Making its home in London, manufacturing was moved to Switzerland in 1919, where it truly began to grow as an icon of luxury and prestige. Rolex has created the benchmark for what a luxury watch should be, with an appeal that seems to have no limits.

Rolex was worn on screen by the famous (if fictional) spy, James Bond, and 007 isn't the only one who thinks a Rolex is a perfect way to show off style with panache. Former president Barack Obama has also been seen sporting a Rolex, while other famous fans and ambassadors include Roger Federer, Jennifer Aniston, Tiger Woods and Sofia Vergara. Even historical figures such as Winston Churchill were seen keeping time with a precise and impressive Rolex, further imbuing the brand with gravitas throughout the decades.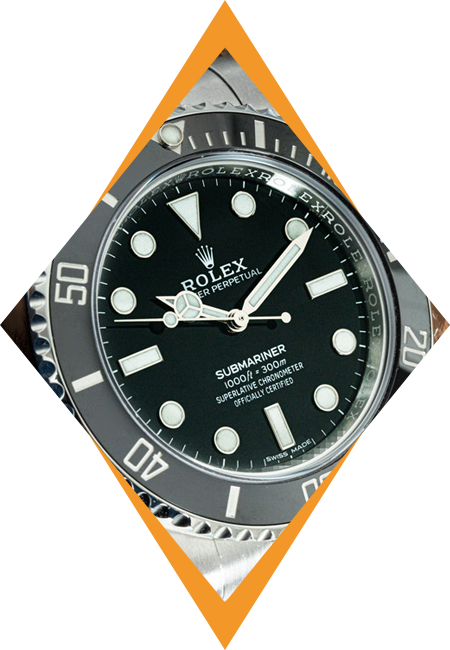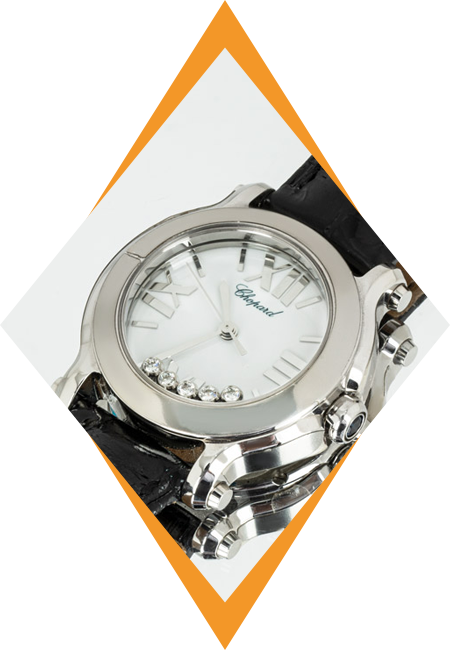 Chopard
Chopard is a classic of the Swiss watchmaking scene, having been founded in 1860 by Louis-Ulysse Chopard. One of the markers of a Chopard timepiece is the commitment shown to using the highest quality materials in every single piece. Each watch is also emblazoned with the Geneva Seal, which gives the brand extra gravitas. This stamp is only given to watch brands which showcase the highest possible standards of Swiss watchmaking.

Known in modern times for creating watches for racing drivers and sports watches, the face of Chopard's Happy Sport watch campaign was actress Julia Roberts. Even outside of these campaigns, Chopard has many celebrity fans such as actor Eddie Redmayne and other stars known for their style like Kim Kardashian, Mariah Carey, and Denzel Washington. The company even partnered with the Cannes Film Festival where simple timepieces and jewellery can truly shine.

Price
How the price differs between each brand is an important consideration, especially if you are thinking about investing in one.
How Expensive Is a Rolex Watch?
Rolex watches can vary in price - while they have definitely gone up in price since the first models were released! Some of the most popular models currently include the Cosmograph Daytona. This Rolex was initially designed as a robust and accurate watch for racing drivers, which is still a beloved model today. If you are seeking your own Daytona model, a vintage model can cost around £20,000, but you can easily pay more than £150,000 for some models. A Rolex Pearlmaster, one of the most desirable luxury pieces, can cost over £80,000. Meanwhile, the Rolex Submariner can cost between £15,000 and £60,000 or more for vintage models.

When purchasing a Rolex, you may be surprised by the price, but these watches are created using the highest quality materials and can often increase in value over time - making them a fantastic investment as long as they are kept in excellent condition, with their original packaging and paperwork in order.

How Expensive Is a Chopard Watch?
Chopard watches are considered a staple of the luxury watch industry, but there are some more affordable models for those looking to begin their luxury timepiece collection. A Chopard Happy Sport watch for ladies can retail for around £6000 for a new model, which is one of the brand's most popular pieces. Vintage models which have appreciated in value can cost £7000 or more.

Some Happy Sport models can cost £15,000, while collectors can invest much more in older models. Because Chopard is still created using the same precision and care, including jewels and precious metals, these watches easily appreciate in value and also provide high-quality durability for day-to-day wear.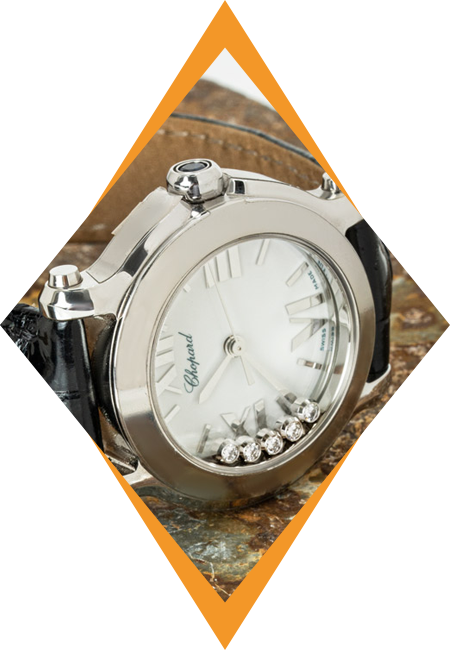 Craftsmanship
The craftsmanship behind both of these brands is exceptional. From floating diamonds to the Rolex Calibre 3135, there is a reason these brands will never go out of fashion.

Rolex Craftsmanship
The craftsmanship behind Rolex is one of the greatest reasons why the brand has continued to be dominant in the luxury watch sphere. Using steel, gold and platinum to create a hard-wearing yet elegant watch, Rolex also utilises the iconic fluted bezel to create the unique style that Rolex aficionados love. The Oyster bracelet is another sign of quality and innovation which has helped Rolex to stand out above others in the industry.

Since 1988, the Rolex Calibre 3135 rewrote the rulebook on watch movement - with simple functions, this automatic movement is one of the most widely known and appreciated movements that Rolex has ever produced, with incredible performance that remains impressive even to this day.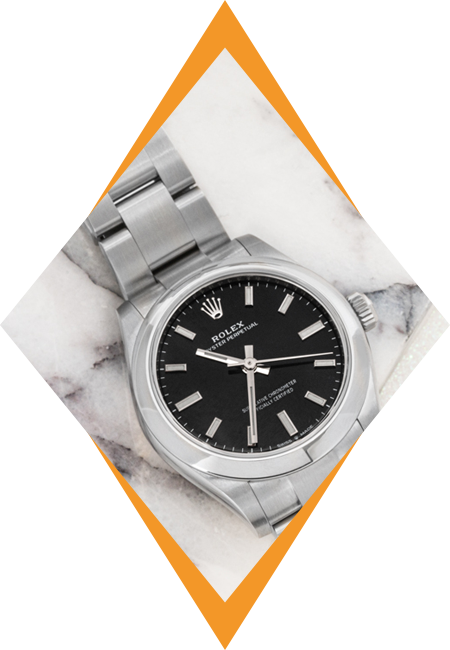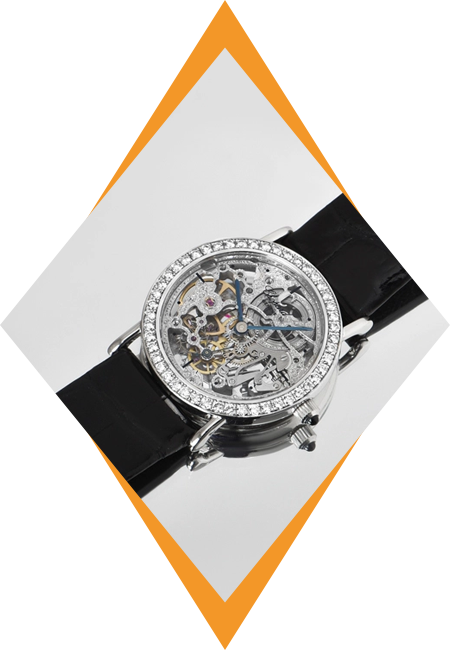 Chopard Craftsmanship
Chopard watches combine high-quality metals with carefully sourced jewels. Chopard is known for innovating floating diamonds within its mechanism, and it is common for a Chopard watch to contain real diamonds, as well as sturdy stainless steel. The use of diamonds as part of the mechanism was seen as extremely innovative at the time, as it is easy for the diamonds to interfere with the smoothness of the movement. However, thanks to Chopard's commitment to detail and employing artisans in the field, the smooth and quiet movement of the watch was maintained. Today, Chopard as a brand takes pride in creating watches and other jewellery with ethically sourced gold, and sustainable diamonds and coloured jewels.

Buying a piece of history